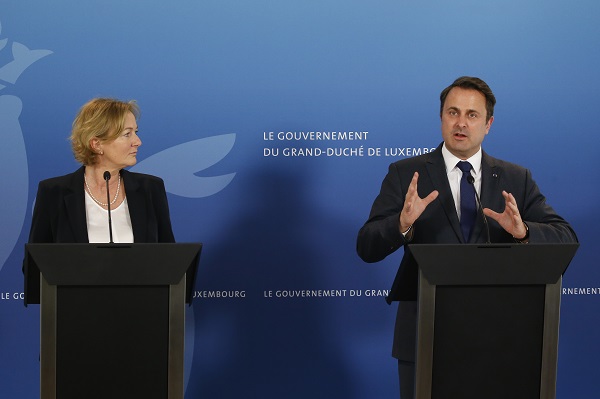 L-R: Paulette Lenert, Luxembourg's Minister of Health; PM Xavier Bettel; Credit: SIP
Luxembourg's Prime Minister Xavier Bettel announced at a press conference this afternoon new measures including the introduction of a curfew in response to rising COVID-19 cases.
The Prime Minister stressed that "the virus is everywhere" and reiterated that "everyone is a part of the solution". He recalled the need to limit contact and social interaction as much as possible and announced new restrictions on social gatherings: a maximum of four guests will be allowed into a household, at tables in restaurants and at any other gathering. If more than four people interact, whether indoors or outdoors, masks must be worn. If more than ten people interact, masks must be worn and a physical distance of two metres must be respected.
Prime Minister Xavier Bettel also announced the introduction of a curfew between 23:00 and 06:00 from Monday 26 October 2020; certain exceptions apply, for instance people going to work or in transit during this time. The curfew will be put in place initially for a one-month period. The Prime Minister warned that the alternative to these measures is a second lockdown, which the government wishes to avoid at all costs.
A health committee will meet on Monday to confirm the legal aspects of these new measures.
For her part, Luxembourg's Minister of Health, Paulette Lenert, regretted the evolution of the situation over the past three days, with the number of people aged 65 and over rising rapidly, and stressed the need to react quickly now. She emphasised that the new measures were "a small price [to pay] now to avoid paying a greater price later".
The Health Minister explained that new measures were needed to ensure hospitals remain able to manage the situation. She added that it would be two or three weeks before the impact of these new measures could be measured.
At present, 86 people are in hospital, including ten in intensive care. Today's figures are expected to again exceed 500 cases.