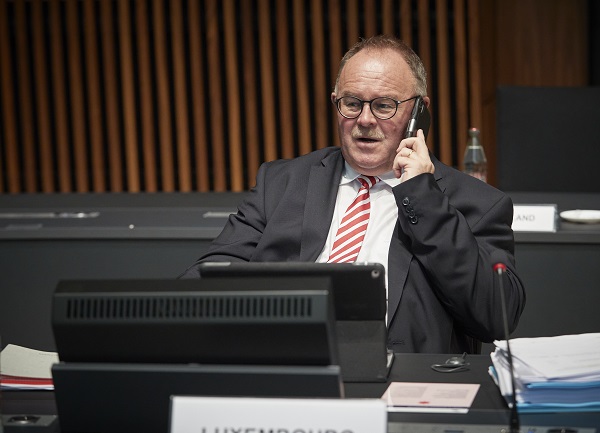 Minister Romain Schneider; Credit: © Mario Salerno
On Monday 19 October 2020, the Agriculture and Fisheries Council of the European Union held the first of its two-day meeting in Luxembourg, during which the council adopted conclusions on the Farm-to-Table strategy, with negotiations on the reformed CAP to continue tomorrow.
Romain Schneider, Luxembourg's Minister of Agriculture, Viticulture and Rural Development, is representing the Grand Duchy at ther two-day event.
This morning, EU agriculture ministers discussed during a first round table discussion on the reform of the post-2020 Common Agricultural Policy (CAP), the aim being to adopt a general approach on the three important regulations which must define the functioning of the new CAP.
Minister Schneider ensured that efforts already made by farmers in the context of climate and environmental programmes are recognised and accounted for more precisely and at their fair value. The minister has also been firm in his demand for sufficient flexibility in the implementation of the new CAP, which must respect the specificities of Member States.
Environmental issues as well as climate aspects therefore remain at the heart of the reform of the CAP. It is with this in mind that a major agreement was reached today on the Council conclusions on the "From Farm to Table" strategy, which is one of the key initiatives of the Green Deal for Europe and which is linked to the reform of the CAP, to be the driving force behind ecological architecture and sustainable agriculture.
On the sidelines of the Council, Minister Schneider led a trilateral meeting with the German Presidency and the European Commission as part of the CAP negotiations.
Negotiations in the Council will continue on Tuesday.