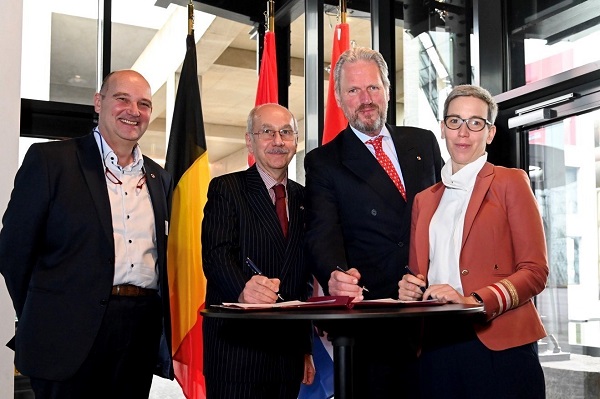 L-R: Alain de Muyser, Benelux Deputy Secretary-General; Han-Maurits Schaapveld, Ambassador of the Netherlands to Luxembourg; Jean-Louis Six, Ambassador of Belgium to Luxembourg; Sam Tanson, Luxembourg's Minister of Justice; Credit: Marie De Decker
Today, on the occasion of International Human Rights Day, the Benelux countries agreed to strengthen their cooperation in the field of combatting human trafficking.
In this context, Luxembourg's Minister of Justice, Sam Tanson, the Secretary of State for Justice and Security of the Netherlands, Ankie Broekers-Knol (represented by Ambassador Han-Maurits Schaapveld), and Belgium's Minister of Justice, Koen Geens (represented by Ambassador Jean-Louis Six), have signed a declaration of intent regarding the next steps in their cross-border cooperation (since 2016) to combat human trafficking.
With this declaration, the Benelux countries have not only pointed out the shortcomings in the field of the protection of human trafficking victims in the EU, but also committed themselves to good cross-border cooperation to remedy this.
Justice Minister Sam Tanson said: "One of the priorities of Benelux justice ministers under the Luxembourg Presidency is to protect vulnerable people, including migrants, from the trafficking of human beings and guarantee their access to justice in the event of sexual exploitation, labour or any other violation of fundamental rights. We consider it our duty to cooperate with neighboring countries in order to avoid any situation of human trafficking and we deny the impunity of this crime".
A symposium on the vulnerability of migrants and the risk of becoming a victim of human trafficking took place on 1 October 2019 in Brussels. At the end of the symposium, the representatives of the three organising countries and their partners / actors in the field identified the gaps in the protection of victims of human trafficking in the EU. This particularly concerned the protection of victims from third countries who have been exploited in a territory other than that of the country where they are seeking help and assistance.
In addition to the progress made in protecting victims, the declaration of intent provides for a Benelux cooperation that is enhanced by the exchange of good practices and trends between neighbouring countries. The agreement stresses the importance of a multidisciplinary approach in the search for sustainable solutions. Political leaders, judicial and police authorities, social workers and NGOs need to actively cooperate on the ground to ensure quick and effective assistance to victims.
Through this agreement, the signatory ministers have expressed their wish to develop synergies with their French and German neighbours in order to widen the scope of projects in the fight against human trafficking within the EU.