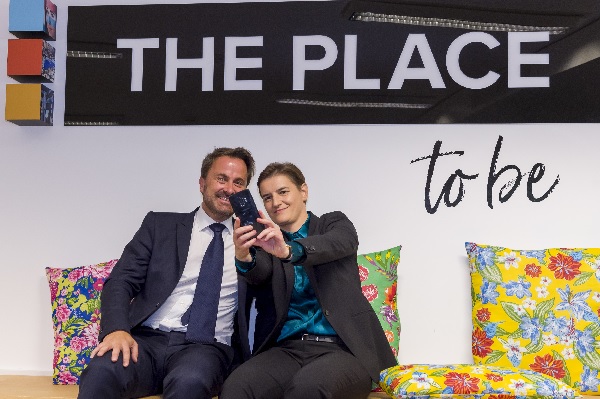 Luxembourg's PM Xavier Bettel with Serbia's PM Ana Brnabić at the House of Startups; Credit: © SIP / Jean-Christophe Verhaegen, all rights reserved
The Prime Minister of the Republic of Serbia, Ana Brnabić, arrived in Luxembourg yesterday as part of a two-day official visit; the first day of this visit saw Luxembourg's Prime Minister Xavier Bettel welcome his Serbian counterpart with military honours in Place Clairefontaine in Luxembourg-ville.
On Ana Brnabić's arrival on Monday, Xavier Bettel said: "It is a great honour to welcome Prime Minister Brnabić to Luxembourg today, only a few months after my official visit to Belgrade. This is a clear indication of the renewed dynamism of our bilateral relations and allows us once again to highlight the close ties that unite our countries, but especially our peoples".
The two prime ministers then discussed bilateral relations and relations between the EU and the Western Balkans during a meeting at the Ministry of State (Hotel St. Maximin). With regard to the EU and the Western Balkans, Xavier Bettel noted: "Future membership of the EU is clearly the goal of the Serbian government and I welcome the efforts of your authorities. But your efforts to implement these measures, especially in the area of ​​the rule of law, independence of the judiciary, the fight against corruption and freedom of the press, must continue to be pursued".
In his speech at the Serbia-Luxembourg Economic Seminar, organised at the House of Startups on the same day and attended by the two prime ministers, Xavier Bettel emphasised Luxembourg's role as a smart nation: "Luxembourg has a dynamic ecosystem of start-ups, of which the House of Startups is an important pillar. We are proud to have created an effective support infrastructure that enables startups to grow and flourish here in Luxembourg, the very heart of Europe". He added that both he and Ana Brnabić serve as ministers of Digitalisation in addition to their role of prime minister and thus highlighted the mutual benefits of "enhanced collaboration in the field of ICT" between the two countries.
To conclude this first day of this official visit, Xavier Bettel stated: "Relations between Luxembourg and Serbia are based on trust and mutual respect. And I am sure that Serbia will remain an important partner for Luxembourg".
Today, on the second day of her official visit to Luxembourg, Ana Brnabić will attend the commemorative ceremony of the 75th anniversary of the liberation of Luxembourg from Nazi occupation, at Cercle Cité. In the evening, the Luxembourgish and Serbian prime ministers will attend the Euro 2020 Luxembourg-Serbia playoff match at the Josy Barthel stadium.