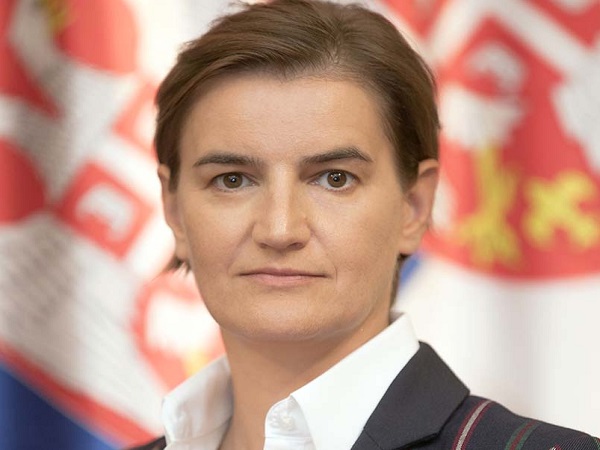 Serbian Prime Minister Ana Brnabić; Credit: The Government of the Republic of Serbia
The Prime Minister of the Republic of Serbia, Ana Brnabić will pay an official visit to Luxembourg on Monday 9 September and Tuesday 10 September 2019.
On the first day of the visit, Luxembourg's Prime Minister Xavier Bettel will welcome his Serbian counterpart with military honours in Place Clairefontaine in Luxembourg-ville. The official welcome will be followed by a meeting between the prime ministers at the Ministry of State (Hotel Saint Maximin). Discussions will focus on bilateral relations as well as current European affairs and relations between the EU and the Western Balkans. Topics relating to international news will also be on the agenda.
In addition, the two prime ministers will have an exchange of views on the ICT field and in particular on the challenges of digital transformation in Luxembourg and Serbia. Digitalisation will also be at the centre of the Serbia-Luxembourg Economic Seminar, organised by the House of Startups at the initiative of the Chamber of Commerce, in which Xavier Bettel and Ana Brnabić, both of whom are also Ministers of Digitalisation, and Luc Frieden, President of the Chamber of Commerce, will deliver opening remarks. In the margins of the seminar, the Luxembourgish and Serbian Chambers of Commerce will sign a memorandum of understanding.
Ana Brnabić will then be received in audience by His Royal Highness the Grand Duke at the Grand Ducal Palace, before meeting with the President of the Chamber of Deputies, Fernand Etgen. The Serbian Prime Minister will also meet with members of the office and members of the Commission for Foreign and European Affairs, Cooperation, Immigration and Asylum.
On the second day of her visit, on Tuesday 10 September, the Serbian Prime Minister will attend the commemorative ceremony of the 75th anniversary of the liberation of the Luxembourg City from Nazi Occupation at the Cercle Cité. Also present on this occasion will be the Grand Duke, Fernand Etgen, Xavier Bettel and the Mayor of the City of Luxembourg, Lydie Polfer.
In the evening, Ana Brnabić will attend, alongside Prime Minister Xavier Bettel and Sports Minister Dan Kersch, the Euro 2020 Luxembourg-Serbia football game at the Josy Barthel stadium.
The Serbian Prime Minister's visit to the Grand Duchy follows that of Luxembourg's Prime Minister to Belgrade at the end of May.