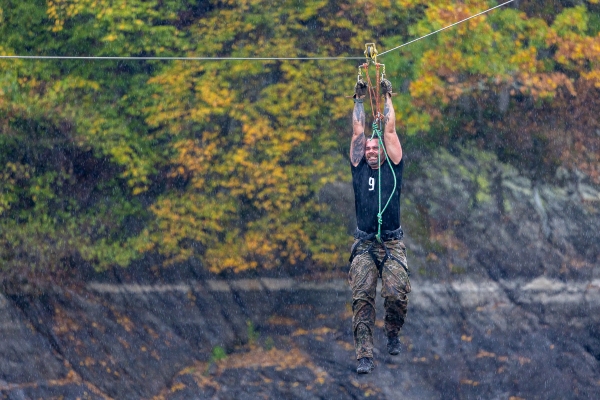 Credit: © Luxembourg Army
On Wednesday 19 and Thursday 20 October 2022, the Luxembourg Army organised a joint military challenge for the ninth time in the Lultzhausen/Insenborn region.
The circuit of approximately seventeen kilometres was composed of more than fourteen obstacles. The course was done in teams of four people and the distance between the obstacles had to be covered on foot.
132 sportsmen and women had registered. Among the 34 teams, nineteen teams from the Luxembourg Army, including five members of the civilian staff, the Grand-Ducal Police, the Customs and Excise Administration, the Grand-Ducal Fire and Rescue Corps and the Directorate of Defence, as well as teams of German, Belgian and French units took up the challenge.
Previously, the prologue was held on 19 October at the Caserne Grand-Duc Jean. This competition made it possible to determine the starting ranks for the next day.
The Thursday morning the first departure was at 08:00, the last at 13:00. The names of the various obstacles were eloquent: Flying Dutchman, Spiderman, Rappel, Changing Zone EOD, Hurt Locker, Aid Man, Bullet Trap, Lumber Jack, River Bridge, Flying Dutchman 2, Trojan Horse, Hells Bells, Hang Over and Golgotha. The challenges were daunting: performing a 110m ride at an altitude of 10m above the lake, climbing a caving ladder, abseiling from a bridge, changing clothes, carrying a plane bomb, evacuate a casualty, archery, saw logs, brave a bridge in the bush, simulate a collision and throw grenades at targets, form a human ladder to ring the bell and move prepared tree trunks.
Back at the Barracks, the results were communicated around 19:00.
The winners were the members of Royal Military Institute of Physical Education of Belgium
The Luxembourg army thanked all the participants for their endurance, their sporting spirit, as well as their good humour that they shared during the competitions and the moments of conviviality.