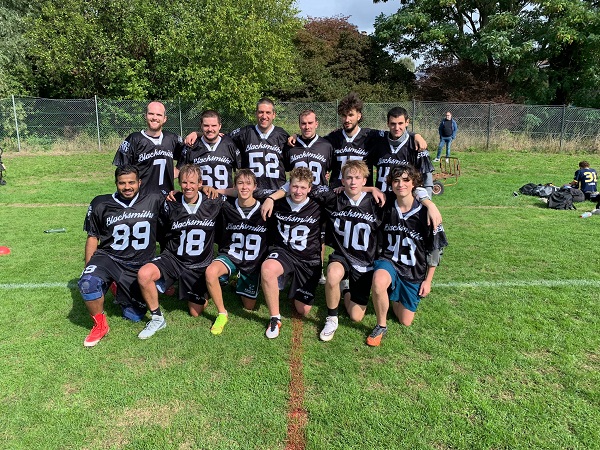 Credit: Luxembourg Lacrosse
The Luxembourg Blacksmiths entered their new season after their promotion into the second division of the Belgian Lacrosse Federation competitions against regional juggernaut Ghent Goblins at the weekend.
The first division team frequently competes in the Belgian play-offs and welcomed the Luxembourgish side for a match in Braine near Brussels on Sunday 18 September 2022.
The Blacksmiths fielded a healthy mix of experience and younger players, including Lycée Guillaume Kroll final-year student Gil Batting in goal and three new players: #40 Alex von Bommel, #90 Nathan Kliver in midfield and #48 Alex Wortmann in defence. They were accompanied by another U18 player #20 Montgomery "Monty" Gérin who had already competed during last year's successful promotion campaign into the second division.
The team also sported a number of welcome returns, with Luxembourg international and World Cup alumni #18 Yves Audrimont joining the team while on visit from Switzerland and defender #89 Nirav Haria returning after injury.
The opposition fielded a number of Belgium international players with several tournaments' experience under their belt – the main objective for Luxembourg was to compete well across all quarters and apply past lessons in a new, more competitive context.
The first success was marked early on: Luxembourg attacker H Coelho found the back of the net after about three minutes, giving Luxembourg its first lead. The Ghent Goblins responded with a goal, leaning on their 17 points of #54 P-J Baert (G: 6; A:3) and #34 T Stepman (G: 3; A:5) who led the charge for the team. Luxembourg would find the net again 20 minutes later, shortening the gap then to 6-2 after goals from Baert, #3 P-J Brabandt (G: 2; A:0), #56 P Schacht (G: 2; A:0) and #1 E Drijvers (G: 2; A:1). Attacker #69 R Jegen (G: 1; A:0) capitalised on the first of several successful attack contributions of #7 P Bingen (G: 3; A:1).
Ghent had by then adjusted their offensive mechanics to the Luxembourg zone defence, capitalising on off-ball movement. This effectively closed the game, taking the Ghent lead to 12-2 before the Luxembourg attacker and president Pit Bingen found the net again shortly before half time and a 12-3 lead for the Goblins.
The Luxembourg off season preparation could have been longer, but the team remained determined to make the most of the experience. Ghent, having displayed offensive efficiency with which Luxembourg was struggling to keep up at times, now faced an improved team defence (and fewer incentives to score with a ten-goal lead).
Luxembourg conceded after half time to a final score of 19-5. President Bingen, having led Luxembourg in points after his role as the team top scorer in the last season, commented: "The whole team, including the new players, fought until the last quarter. We never looked at the scoreboard but at the next play and can be happy with our performance". First scorer Coelho commented: "We were quite organised, especially the new guys showed they learned well. Big thanks to the [referee] crew for a well-run match".
Head coach Henning Schmidt, who had been unavailable due to family commitments, commented: "This scoreline against that team with that many youngsters on board shows we belong here. Of course we would have loved to see a few more goals for us and fewer for them – yet, it's attitude that determines success and we definitely brought that".
Luxembourg Lacrosse have their next game on Sunday 2 October 2022 against French team Lille Seagulls. Lacrosse has been in Luxembourg since 2016 and everyone is welcome to play. Further details are available on the website: https://lacrosse.lu/en/.