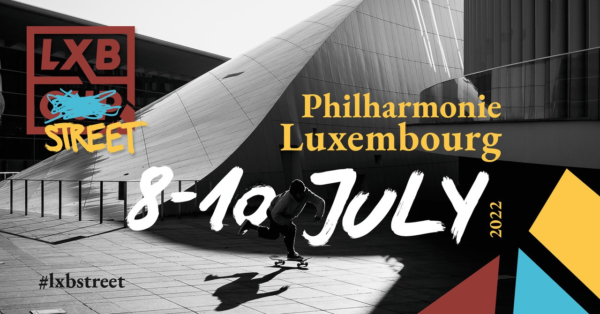 Credit: LXB Street
The Skateboard Club Luxembourg announced the skateboarding event "LXB Street" taking place at Place de l'Europe from Friday 8 to Sunday 10 July 2022.
For the 2022 edition, the organiser of the traditional "LXB CUP", an event which in the past has attracted the world elite of professional skateboarding, will focus on street-skateboarding and combining the existing urban furniture of the Place de l'Europe with modules specially designed for the occasion, thus creating a unique skate spot to welcome the renowned riders.
The Place de l'Europe, developed by the Catalan architect Ricardo Bofill, enjoys great popularity among local and international skateboarders, many of whom travel to Kirchberg to skate in this unique setting.
Tom Jungbluth, from the Skateboard Club Luxembourg, said: "the 2017 and 2018 editions of the LXB Cup have highlighted the fact that skateboarding is an incredibly dynamic outlet and a positive platform for young people in Luxembourg". He continued: "thanks to like the 'Péitruss' skatepark, set up by the City of Luxembourg in the Pétrusse valley, skateboarding continues to gain followers and the level is getting higher and higher".
International competition for pro-riders and amateurs
The organisers of LXB Street have spared no effort to bring the best of skateboarding to Luxembourg: the Argentinian Matias Dell Olio, known for his fast movements, the Swiss Simon Stricker, winner of the 2018 edition of the LXB CUP, the Austrian Chris Pfanner, mastering his tricks with great authority, or the Frenchman Aurelien Giraud, first in the qualifications for the Olympic Games in Tokyo in 2021, all can be admired by spectators during the official competition.
On two different courses, riders can demonstrate their talents over two days and convince the jury that they deserve to win the tidy sum of €20,000.
As the competition is an "OPEN" competition, skaters of all levels can register via the online form www.lxbstreet.lu for the price of €85.
Varied programme
Much more than just a high-level skateboarding competition, the "LXB Street" will allow visitors of all ages, skateboarders or simply curious, to fully immerse themselves in the urban culture in which skateboarding was born and evolves.
Screen printing workshops, musical performances, art exhibitions, sales stands and many other surprises will await visitors to Place de l'Europe during this weekend. In addition to the international competition, free skate lessons will be offered to young and old. Supervised by experienced skateboarders, participants will be able to learn skateboarding.
Lessons will take place on Saturday and Sunday from 09:00 to 13:00, prior registration is not necessary. Although the "Skate Lessons" are aimed more at teenagers, young children as well as adults can also get on a skateboard for the first time.
On Saturday evening, the Ultraschall Collective, well known to night owls, will thrill visitors before they can head to the Philharmonie where the "End-of-season party" will festively close "LXB Street" with sounds electro.
Programme:
Friday, 8 July 2022
16:00 - 21:00: Local session with meet and greet
18:00 - 20:00: Amateur best trick
Saturday, 9 July 2022
09:00 - 21:00: Coffee, shops & such
09:00 - 13:00: Free skateboard lessons (children and adults)
14:00 - 20:00: Run One & Cash Games
20:00 - 21:30: End-of-Street aperitif by Ultraschall Collective
21:00 - 03:00: End-of-season party @ Philharmonie
Sunday, 10 July 2022
09:00 - 20:00: Coffee, shops & such
09:00 – 13:00: Learn how to skate (Free skate lessons)
11:00 - 20:00: Good bites & great drinks
14:00 - 19:00: Run Two & Cash Games
19:00 - 20:00: Prize Ceremony
More details online via: https://www.lxbcup.com/