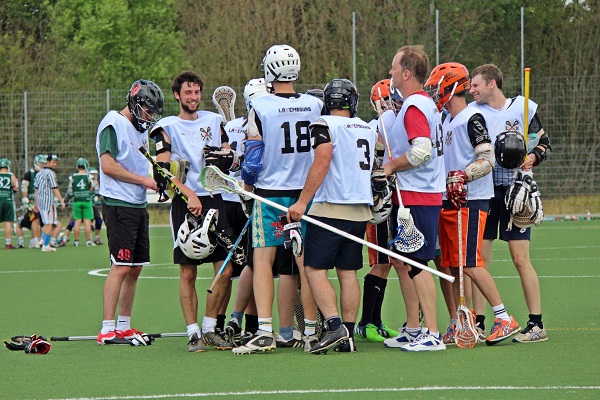 Credit: Karl Marx Pokal / Luxembourg Lacrosse
Luxembourg Lacrosse is celebrating its 5th anniversary this year; on 4 December 2016, the club was founded in the kitchen of current President Pit Bingen.
It all started when a few friends, who had already accumulated a bit of lacrosse experience abroad, got together through Facebook and decided to meet once a week so they could practice the sport together in the park. After using social media to attract new players, it was on 4 December 2016 that they decided to officially found the Federation Luxembourg Lacrosse.
This decision helped Luxembourg Lacrosse to finally establish itself in the Luxembourg sports world, providing them with fixed training times and playing fields. This led to the first tournament and friendly games under the club names Blacklynx (women's team) and Blacksmiths (men's team).
The club next became a member of the European Lacrosse Federation before being asked to join the World Lacrosse Federation and whether Luxembourg would like to participate in the World Championships 2018 in Netanya, Israel. Within just eight months, Luxembourg put together the national team and took part in the World Championships in the summer of 2018. For many of the players, it was their first big lacrosse experience.
After the World Cup, the decision was made to take the next big step in club lacrosse. At that time, the men's team had only participated in tournaments and friendly matches. So it was decided to participate in the Belgian championship. With this, Luxembourg Lacrosse was finally there, what the founding members had dreamed of in 2016.
In the following years, the first victories in the Belgian league were celebrated. Also with the national team, after several training camps, they continued on their winning course, collecting their first victories at a tournament in Prague against Poland and Croatia. More tournaments, friendly games and the founding of the Lacrosse Academy to promote young talent followed.
After the second year in the Belgian league had to be cancelled due to COVID-19, the fight for the championship started again this year. During the pandemic, Luxembourg Lacrosse continued to train as much as possible, whether together or alone at home. They also took the opportunity to start another programme, Lacrossefit. This programme was for new players who were looking for something new after lockdown. This attracted many new players, especially players for the Blacklynx women's team.
The experience of the last five years made itself felt at the start of the new season. The club is currently in first place in their group with three wins from three games.
All the more reason to celebrate these past five years together with old and new friends of the fastest game on two legs on 4 December 2021.