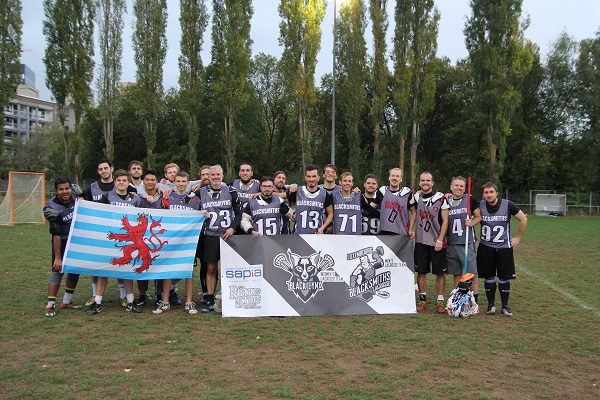 Luxembourg Blacksmiths lacrosse team;
The Luxembourg Blacksmiths faced local rivals Namur Knights on Sunday 7 October at their homeground in Weimerskirch in their first ever home game in the Belgian Lacrosse League.
The game started in style with 18 players suiting up for Luxembourg's sole men's Lacrosse team, with goalie Patrick Audrimont set to play the whole game in his debut. Midfielder C. Schusterschitz (#20) was transferred to attack to enable #9 P. Barbier help out with defense duties before delivering some good offensive output later in the game.

Namur's #10 R. Bouchat began the scoring early, shortly followed by an equaliser of Cole Ritts, who had played on defense in the World Cup but now seems to have found a home in the offensive end. Luxembourg would continue to equalise another two times for a 2-2 quarter time score and 3-3 at 25 minutes. Namur and Luxembourg would then remain scoreless for another ten minutes, at which point Namur took a time out and began an unanswered five goal scoring run, initiated by R. Bouchat's third goal. As with the match against Opueye Foxes, inexperience and nerves cost a hard battling team dearly - offensive nerves and lacking defensive adjustment, especially when tackling the strongest offensive player of Namur from using size and speed from midfield, especially in the form of #10 R. Bouchat, meant that the Knights gained an unassailable lead by 70 minutes of game time. The following comeback with two spirited goals by Hugo Coelho allowed the Blacksmiths to lower the margin to a final score of 5-9.
While not available for the game, coach Henning Schmidt offered some insights after the game: "Second game, first season - we thought we had more to give in attack and made some adjustments but underestimated individual strength of the Knights. We still struggle defensively but made some good strides, lending more help to each other as a unit, but not quite enough to stop strong individual efforts. Offensively we produced but need to find more and better opportunities to score."
The team is not dismayed - the real successes lie elsewhere, according to federation president Pit Bingen. "We have managed to play two games using only local players. Not having all of the players from the World Cup in Israel here hurts us but it's testimony to the club's work that the club fielded two strong teams."
Coach Schmidt supported the statement. "Having new players compete frequently is the biggest success. The wins will come, now that we have players at practice and at games consistently." He had one last addition for this report. "I would like to point that our team has now two father/son combinations in its active roster. #20 Clemens Schusterschitz plays with his father #23 Gregor Schusterschitz and defensive captain #4 Greg Ritts plays alongside his two sons #99 Grayson Ritts and #33 Cole Ritts. This is a very special for us, having that sort of commitment to the club and the sport."
Now trailing in the league table at 0-2, the Blacksmiths face the Machelen Minotaurs away on Saturday 13 October, the next game away before the biggest local event this autumn, the FIL training camp from 19-21 October at the Terrain des Sports in Cessange. The Minotaurs beat the Opueye Foxes in their last game.
Coach Schmidt commented on this away game. "As before - we are here to stay. There is nothing we cannot overcome, if maybe not immediately but near certainly eventually. We will continue to work hard and play hard and look forward to the next opportunity to compete. It's been a blast so far and we look forward to more games and of course also our FIL camp on 19-21 October."