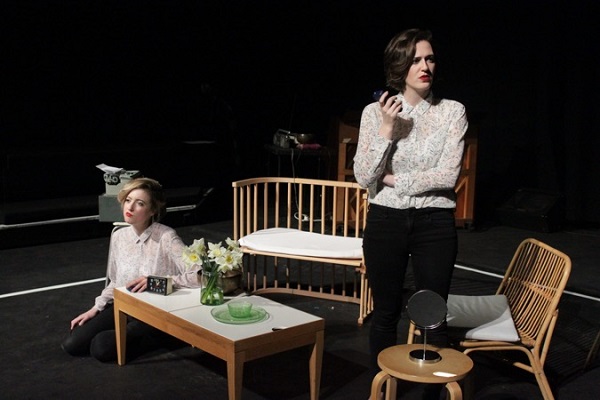 Credit: Claire Shovelton
The Théâtre du Centaure in Luxembourg-ville will play the English-language pocket opera "A Certain Sense of Order - On a Poem by Anne Sexton" on 25 and 26 April 2019.
In "A Certain Sense of Order", two female singers explore the American poet Anne Sexton, using the text of a single poem, "For John, Who Begs Me Not to Inquire Further". The piece reflects on Sexton's life and work, including her practice of recording and listening to tapes of her therapy sessions.
While reciting excerpts of the poem, singers Sarah Parkin and Rosie Middleton will perform activities reminiscent of a variety of practices from Sexton's life. Additionally, the singers will move between different kinds of interactions, taking on roles from both the home and the therapy room. Rather than a literal or biographical representation of the poet or her work, this work is better understood as a performed poetic interpretation.
This collaboratively created opera by Catherine Kontz, Naomi Woo and Sasha Amaya will be shown on Thursday 25 April at 18:30 and on Friday 26 April at 20:00. The Thursday performance will be followed by a Q&A with the artists, whilst the Friday performance will be preceded by a short discussion in Luxembourgish between composer Catherine Kontz and historian Sonja Kmec. This conversation, starting at 19:30, will refer to the article in the recent publication "Mit den Haien Streiten" in which Kontz writes about the creative process of "A Certain Sense of Order" in the context of female creators.
The one-hour-long show features soprano Sarah Parkin and mezzo-soprano Rosie Middleton with Naomi Woo and Catherine Kontz on piano and organs.
Tickets cost €20, €8 (reduced) or free with a Kulturpass and can be purchased via e-mail: reservations@theatrecentaure.lu or tel.: 222-828 (answering machine).
For more information, see http://www.theatrecentaure.lu/spectacle/a-certain-sense-of-order/.