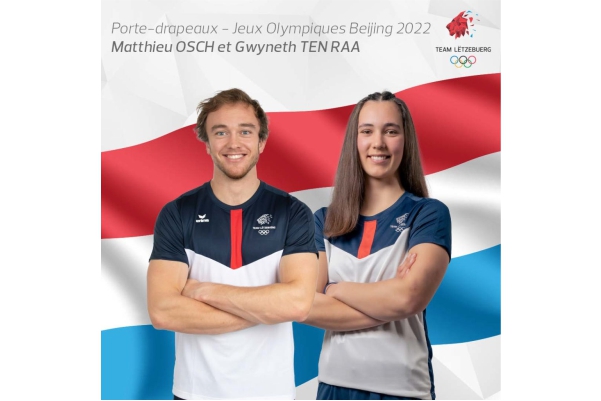 Credit: COSL
The 2022 Winter Olympics started today, Friday 4 February 2022, at the Olympic Stadium in Beijing, China, with the Opening Ceremony at the site colloquially known as the "Bird's Nest" due to the shape of its architectural design.
Luxembourg's Olympic and Sports Committee (COSL) selected both of the Grand Duchy's team members, Gwyneth Ten Raa and Matthieu Osch, as Team Lëtzebuerg's flag bearers for the event that took place at 13:00 (20:00 Beijing)
Matthieu Osch had the honour of carrying the flag for the second time in a row, following the Winter Olympics of PyeongChang in 2018.
Both Gwyneth Ten Raa (16) and Matthieu Osch (22) will participate in Alpine Skiing discipline, with both down to compete in the Slalom and Giant Slalom events (each event comprises two runs to determine the final rankings).
Matthieu Osch, from Ettelbruck, finished 62nd in the Men's Giant Slalom in the Pyeongchang Winter Olympics in 2018.
Gwyneth Ten Raa shared a picture of Grand Duke Henri in the stands with the Luxembourg flag cheering for Team Lëtzebuerg during the opening ceremony.
Gwyneth Ten Raa will participate in her events on 7 and 9 February, whilst Matthieu Osch will ski on 13 and 16 February 2022