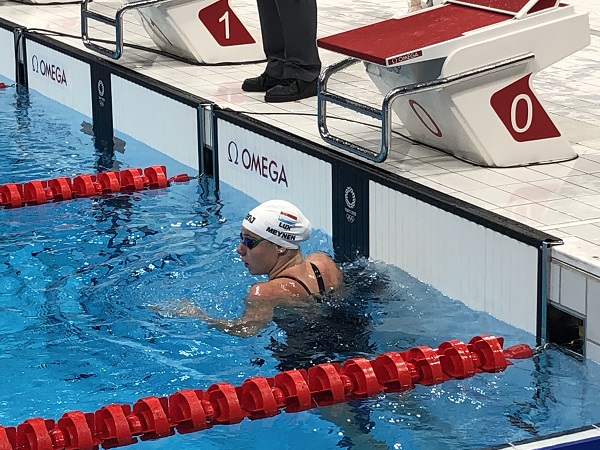 Credit: FLNS (Luxembourg swimming federation)
Luxembourg swimmer Julie Meynen celebrated the end of her Tokyo 2020 journey on Friday.
Two days after her 100m freestyle race, in which she finished in 7th place, 23-year-old Julie Meynen ended her second Olympic Games with a bronze medal in the women's 50m freestyle event at the Tokyo Aquatics Centre.
The Luxembourg sprinter completed the race in 25.36 seconds, coming third out of eight athletes. "Today it went much better than two days ago. After such a difficult season, I'm just happy and proud to be able to swim here at all", she commented.
In the final ranking, Julie Meynen placed 25th out of 81 participants.
Dutch swimmer Femke Heemskerk, who finished the 50m event in 24.77 seconds, secured the last spot for the semifinals.
Taking into account Julie Meynen's best time (national record) of 24.78 seconds, which she set at the 2019 World Aquatics Championships in Gwangju, the next round is within reach.