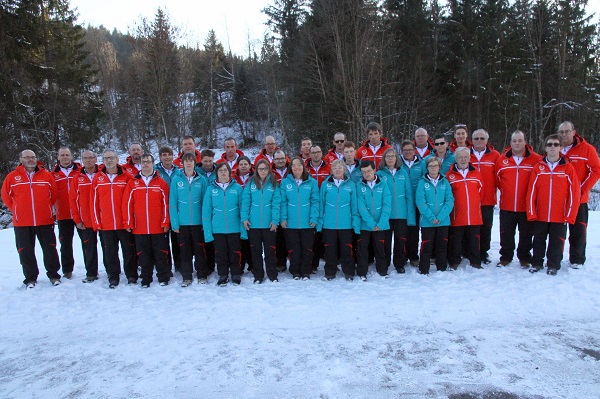 Special Olympics Luxembourg (SOL) are sending a team to the upcoming Special Olympics Winter Games in Austria, from 14 - 25 March 2017.
HRH the Heriditary Grand Duke Guillaume, and HRH the Heriditary Grand Duchess Stephanie, will attend the event from 18 - 20 March, accompanied by Luxembourg's Minister of Sports, Romain Schneider. They will visit and support Team Luxembourg at the Olympic venues in Graz and Schladming, including the Opening Ceremony on 18 March.
Special Olympics Luxembourg will be represented by a delegation of 24 athletes, 9 coaches and 2 heads of delegation, as well as a physiotherapist to participate in alpine skiing, cross-country skiing, snowshoeing and stickshooting.
Team Luxembourg has been busily preparing since October, notably by training in Bavaria just before Christmas. A final week of preparation will constitute a winter sports clinic (18 to 25 February) in Austria.
On Sunday 19 March they support Team Luxembourg competitors in Schladming (alpine skiing in Rohrmoos, cross-country skiing and snowshoeing in Ramsau) and, on Monday 20 March they will visit Team Luxembourg members participating in Graz (stickshooting).
Composition of Team Luxembourg: Marc Feltgen, Chef de délégation; Jerry Garson, Chef de délégation adjoint; Marianne Schonckert, physiotherapist

Cross-country skiing: Silvia Splicks (2,5K, 5K, relais 4x1K), Francesco Zarotti (1K, 2,5K, relais 4x1K), Josette Lamers (500M, 1K), Luigi Alberti (1K, 2,5K, relais 4x1K), Lynn Streitz (500M, 1K), Patrick Guth (1K, 2,5K, relais 4x1K); Coaches: Pierrot Feltgen, Frank Schintgen
Downhill skiing: Alastair Lesire (Super G, Slalom géant), Aly Hoffmann (Super G, Slalom géant), Elise Georges (Super G, Slalom géant), Kelly Toex (Super G, Slalom géant); Coaches: Holm Ristok, Jet Dasselaar
Snowshoeing: Laurent Rosseljong (400M, 800M, relais 4x100M), Béa Cannels (100M, 200M), Nora Urbing (200M, 400M, relais 4x100M), Pascal Closter (200M, 400m, relais 4x100M), Pit Frank (200M, 400M, relais 4x100M), Sonja Engeldinger (200M, 400M); Coaches: Vanessa Di Nardo, Guy Wagener
Stickshooting: Guy Haas (Individuel, Team 1), Daniel Roesgen (Individuel, Team 1), Cathia Jacobs (Individuel, Team 1), Caroline Schambourg (Individuel, Team 1), Jean-Louis Schlesser (Individuel, Team 2), Jessica Metzdorf (Individuel, Team 2), Yves Logelin (Individuel, Team 2), Marc Schiltz (Individuel, Team 2); Coaches : Paul Koch, Marc Theis, Ed Pick