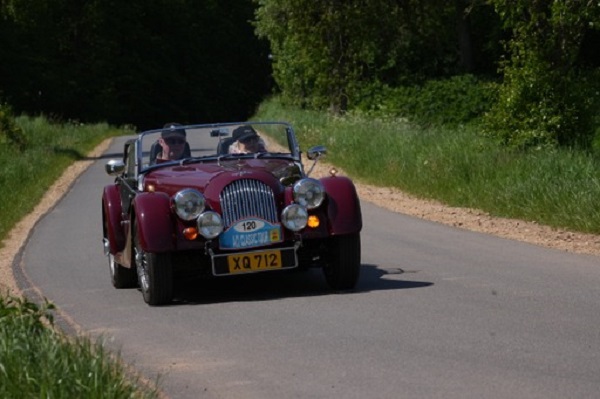 Credit: ACL
On Thursday 19 May 2023, on Ascension Day, 137 vintage vehicles participated in the 21st edition of the ACL Classic Tour.
On this sunny day, classic cars such as Bugatti, Jaguar, Porsche, Mercedes, Ford and Mustang awaited the 09:00 opening of the the ACL Classic Tour 2023. They embarked on the itinerary of the famous roadbook designed by Ed Goedert and kept secret until the day of the tour. "We always try to offer routes that people do not know so that they can discover beautiful landscapes behind the wheel of their little jewels," he clarified. "There will be no race or classification, the idea is really to have fun driving, respecting the highway code."
According to ACL, once the starting signal was given, the first vehicles left the car park in turn, at an interval of 30 seconds. Henri and Philippe, father and son, watched the parade, eager to hit the road aboard their 1967 Corvette Sting Ray. "My father already participated in dozens of editions of the Classic Tour, it's only the second time for me. I leave the wheel to him and I take on the role of co-pilot. In general, we discover places where we have never set foot," said Philip.
At midday, a lunch scheduled at the Salle Turelbaach in Mertzig allowed the participants to have a break and share their impressions of this first section. "I have lived in Luxembourg for 30 years and the ACL has once again succeeded in making me discover places that I did not know. Very nice morning indeed," commented Werner and Live, who took part in the ACL Classic Tour for the second time with their 911 Porsche from 1971. The couple took advantage of the stopover in Mertzig to greet acquaintances and have a look at the other vehicles.

Curious people, such as Claude from Ettelbruck, came to admire the vintage vehicles of the ACL Classic Tour: "I have an old vehicle myself and I dream of an Alfa Romeo GTV. Next year, I am also thinking of registering for the Classic Tour, it made me want to participate."
The 21st edition of the ACL Classic Tour ended with a dinner at 18:00 at the Parc Hôtel Alvisse in Luxembourg-Kirchberg.