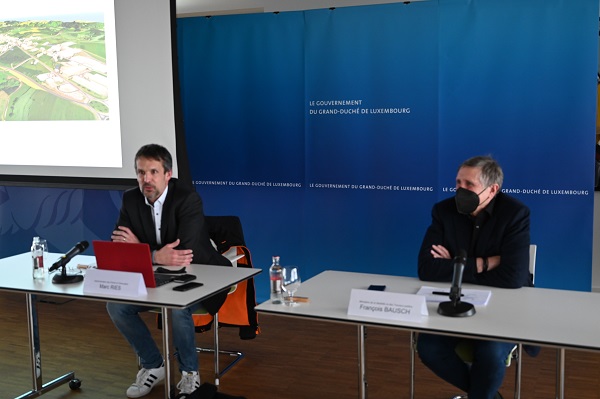 (L-R); Marc Ries, Administration of Bridges and Roads; François Bausch, Minister of Mobility and Public Works; Credit: MMTP
On Friday 5 February 2021, Luxemboug's Minister of Mobility and Public Works, François Bausch, unveiled plans for making safer the N7 road between Wemperhardt and Ettelbruck and the bypass of Hosingen.
The national road N7 (Fridhaff - Weiswampach) has a total length of 31.5 kilometres. In less than 10 years, a total of 10 people have died in road accidents, 34 people have been seriously injured and 103 slightly, on this road.
The safety project covers 24.8 kilometres and is divided into 3 sections: Fridhaff - Hoscheid-Dickt, Hosingen - Marnach and Heinerscheid - Weiswampach. In particular, it is planned to widen the road (by 5.5 metres, with a continuous emergency lane), to alternate 2x1 lanes every 1.2 kilometres.
The head of the project, Marc Ries of the Administration des Ponts et Chaussées, explained that, in order to limit agricultural machinery traffic on the N7, it has been decided to build certain agricultural structures. In addition, the maximum speed will be 90 km/h over the entire length of this road section.
"Traffic will be safer and also smoother," said Minister Bausch, adding that the costs amount to €246.71 million. A continuous cycle path (PC7) from Hoscheid to Hoscheid-Dickt will also be built. Work is expected to start next year and take about 4 years for the first section.
The Hosingen bypass is part of the N7 safety project. This includes in particular the bypass (with a total length of 4.4 kilometres, the upgrading of the centre of Hosingen and traffic calming measures in Hosingen, as well as the relocation of the CR324 (Bockholtz / Obereisenbach). These works are expected to start next year and last for 4 years, the total costs being €154.35 million.