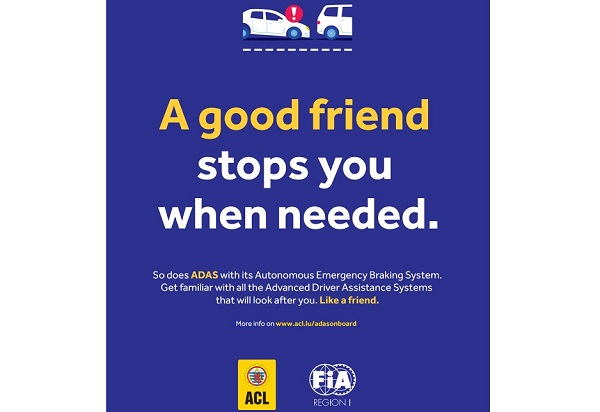 The Automobile Club du Luxembourg (ACL) has announced that it is participating in the Fédération Internationale de l'Automobile (FIA) Region I's campaign to raise awareness of new in-vehicle safety technologies.
FIA Region I unveiled its new road safety campaign today, dedicated to Advanced Driver Assistance Systems (ADAS). The campaign aims to raise awareness among motorists in Europe on some of the intelligent vehicle safety systems that will become mandatory on new car models from May 2022 and on all existing models from May 2024.
In order to achieve tangible road safety improvements, drivers must understand assistance systems' functionalities and limitations. Laurianne Krid, Director General at FIA Region I, commented: "ADAS can contribute to safer roads; however, we need to speed-up the harmonisation of these systems, and educate drivers on how to use them. Lane Keeping Assist, Adaptive Cruise Control and Autonomous Emergency Braking are good friends, but drivers need to get to know them first".
A study commissioned by FIA Region I, to be released soon, revealed that the majority of drivers are unaware of how to operate ADAS despite these systems being present already in most new vehicles and set to be mandatory soon.
The campaign has been translated into more than eighteen languages and will roll out in Europe, the Middle East and Africa.
Further information is available on the campaign page: www.adasonboard.eu.