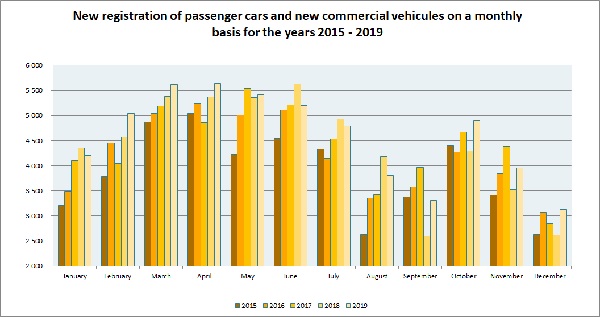 Credit: Statec
Recent figures from Statec have revealed a record number of car registrations in Luxembourg in 2019, with a total of 55,008 new registrations of passenger cars and commercial vehicles.
The number of new car registrations in the Grand Duchy rose 4.16% from 52,811 in 2018. Indeed, the figures for 2019 were the highest since 1981 (as far back as Statec's statistics in this area allow).
From the 55,008 new registrations, 34,789 were for commercial vehicles and the remaining 20,219 were for passenger cars. The month with the highest number of new car registrations last year was April (5,642), whilst the lowest number of registrations was recorded in December (3,127).
The most popular car brands in Luxembourg in 2019 were Volkswagen (6,643 new registrations), followed by Mercedes (5,058) and BMW (4,856). Other popular brands were Renault (3,895), Audi (3,810), Peugeot (3,332), Skoda (2,431), Volvo (2,114), Citroen (1,697) and Fiat (1,624).