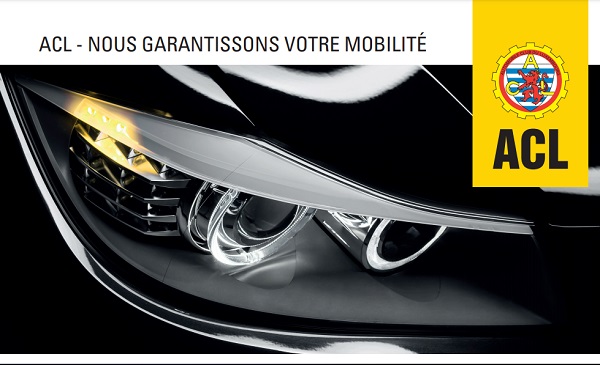 Credit: ACL
With winter fast approaching, the Automobile Club du Luxembourg (ACL) is once again offering free checks as part of the traditional road safety and tyre campaign, taking place from 14-15 November 2019.
This year, ACL's mechanics will also offer motorists a free battery check. According to ACL statistics, battery-related breakdowns are the most common, especially in winter. Temperatures below 10 degrees Celsius have a negative impact on battery operation because the chemical reaction becomes slower and therefore provides less current. A battery weakness amplifies this difficulty, leading to a breakdown. In addition, accessories like headlights and windshield wipers put extra pressure on the battery in the colder months. Consequently, the ACL is offering on-site battery testing for batteries aged four and over.
The ACL will also offer free tyre tests, not least because tyre control is especially important this season. Dead leaves on the road, rain and falling temperatures pose a danger to motorists if their tyres are not in good condition. The mechanics will check the tyre material, its age, profile and overall state. As a reminder, the law requires a minimum profile depth of 1.6 mm. In addition, the ACL has recommended that, for safety reasons, this profile does not go below 4 mm in depth.
Finally, the ACL will test lighting to ensure that all headlights are in working order (low beam, high beam, fog lamp, indicators, etc). The mechanics will also monitor the condition of reflectors and headlights, as well as their position.
These free tests will be carried out from 10:30 to 18:00 at the following sites and on the following dates:
14/10/2019: Cactus Remich
15/10/2019: Diekirch Parking Aal Seeërei
16/10/2019 and 17/10/2019: Cactus Kayl
22/10/2019, 29/10/2019, 08/11/2019 and 15/11/2019: City Concorde Bertrange
24/10/2019: Mertert, Parking CIMW
25/10/2019: Massen Wemperhardt shopping centre
28/10/2019: Cactus Redange-sur-Attert
31/10/2019 : Knauf Pommerloch shopping centre
04/11/2019: Cactus Bereldange
05/11/2019: Cactus Howald
07/11/2019: Cactus Bettembourg
12/11/2019 and 13/11/2019: Cactus Bascharage
Please note that tyres and light tests at the ACL in Bertrange are by appointment only at the ACL Diagnostic Center (tel.: 450-045-6007 or e-mail: dc1@acl.lu).