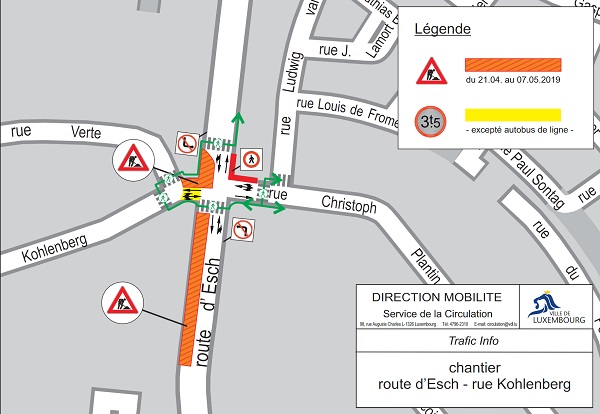 Credit: VdL
The next phase of public utility network and infrastructure works between Route d'Esch and Kohlenberg will begin this coming Sunday.
These road works are scheduled to take place from Sunday 21 April to Tuesday 7 May 2019 and will affect traffic in a number of ways. This includes the narrowing of the carriageway to two lanes on Route d'Esch at the intersection with Kohlenberg and Rue Christophe Plantin.
In addition, there will be no left turn on Route d'Esch onto Rue Christophe Plantin for vehicles coming from Hollerich and Gaasperecherbierg and vehicles weighing over 3.5 tonnes will be banned from travelling between Route d'Esch and Rue Verte during the works period. There will similarly be no left turn on Route d'Esch onto Kohlenberg for vehicles coming from Howald/Kockelscheuer. Appropriate signs will be put in place announcing these changes.
During the construction phase, the CN3 line of municipal buses will also be affected: the CN3 line will be diverted from Rue de Gasperich via Rue Ludwig van Beethoven and Rue Christophe Plantin Street towards Cessange. The Gaasperecherbierg bus stop will be removed and replaced by the Klensch stop.