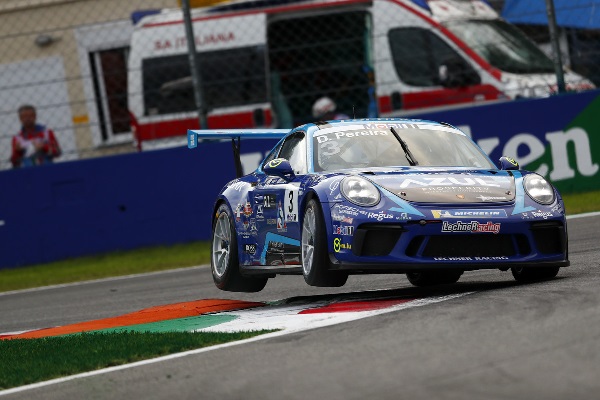 Dylan Pereira on the Monza circuit; Credit: Porsche Mobil 1 Supercup - Monza 2019
Luxembourg race car driver Dylan Pereira finished 7th in the most recent race of the Porsche Mobil 1 Supercup over the weekend, thus climbing to 9th place overall in the championship.
This past weekend, Dylan Pereira took part in the eighth race of the Porsche Mobil 1 Supercup on the Monza circuit in Italy. This circuit is characterised by long, straight lines and fast turns.
In the free practice session, Momo Megatron Lechner Racing driver prioritised finding the right settings for his Porsche 911 GT3 Cup.
In the time qualifying, he was the fastest driver in the first sector, on a circuit where it is very difficult to achieve good lap times in the three sectors without exceeding the limits of the track. In the middle of the qualifying session, he returned to his box to adjust the settings and change tyres. Back on the track, with only ten minutes to go, the Luxembourger managed to jump to 4th place. Two minutes from the end, he made the 3rd best time. At the end of qualifying, Dylan Pereira took 5th place on the starting grid, less than two-tenths of a second off the pole.
The race itself got off to a disputed start. The Luxembourger suffered a few bumps, was hampered by an accident on the first corner and lost his place. He reacted quickly in the first lap, however, and recovered two places, starting the second lap in 7th place. In the sixth lap, he climbed to 6th and during the rest of the race he battled with Jaxon Evans for this position. At the end of the race, Dylan Pereira's Porsche suffered tyre wear and he finally conceded 6th place to his New Zealand opponent.
Having finished with nine points in 7th place, Dylan Pereira has climbed one spot to 9th place overall in the championship.
The Porsche Mobil 1 Supercup will take another break before returning at the end of October in Mexico for the last weekend of the season. In the meantime, Dylan Pereira will continue on the track in the Porsche Carrera Cup Germany. Next weekend, the Luxembourger will compete in the thirteenth and fourteenth races of the German competition at Hockenheim, where, last July, he won his first victory in the Porsche Mobil 1 Supercup.