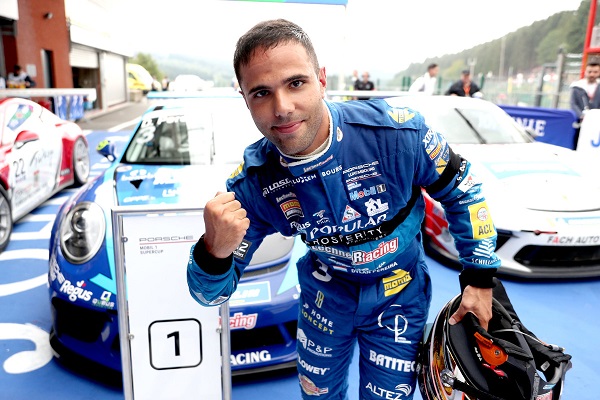 Dylan Pereira; Credit: © Porsche Mobil 1 Supercup, Spa-Francorchamps 2019
Luxembourg race car driver Dylan Pereira secured first place at the Porsche Mobil 1 Supercup's Spa-Francorchamps circuit in Belgium over the weekend.
The seventh race of this year's Porsche Mobil 1 Supercup, held at the Spa-Francorchamps circuit in Belgium, saw Dylan Pereira win gold and his second victory in the tournament.
The Luxembourgish driver achieved excellent results in both the timed practice and the race itself, despite the technical and complex nature of the circuit. In this context, although Dylan Pereira has prior experience on this circuit, he had to adjust the setting of his Porsche 911 GT3 Cup as well as his driving style.
The Momo Megatron Lechner Racing driver got off to a good start as the second fastest driver in the free practice. Similarly, in the timed practice, Dylan Pereira began with four very fast laps before returning to his box for the usual adjustments and tyre changes. Back on the track, towards the end of qualifying, the Luxemburgish driver started to try out new settings and at the last minute made a perfect lap, very fast in all three sectors and set the fastest time of the session, securing his first ever pole position in the Porsche Mobil 1 Supercup.
In the race itself, Dylan Pereira got off to another good start, keeping the first position and crossing the finish line at the end of the first lap just over a second ahead of the Turkish driver Ayhancan Güven. Both drivers maintained the suspense until the end of the race with Güven repeatedly attempting to overtake Pereira, but to no avail. The Luxembourger ultimately crossed the finish line first.
Dylan Pereira's performance was applauded by many fans who had travelled from Luxembourg for the race. The points accumulated by this victory bring Pereira into the top 10 of the championship.
The Luxembourgish race car driver stated: "It's an incredible feeling to win my first pole position and another victory in the Porsche Mobil 1 Supercup at Spa-Francorchamps".
Next week, Dylan Pereira will travel to Monza in Italy to participate in the eighth race of the Porsche Mobil 1 Supercup, which will open the Italian Grand Prix in Formula 1.