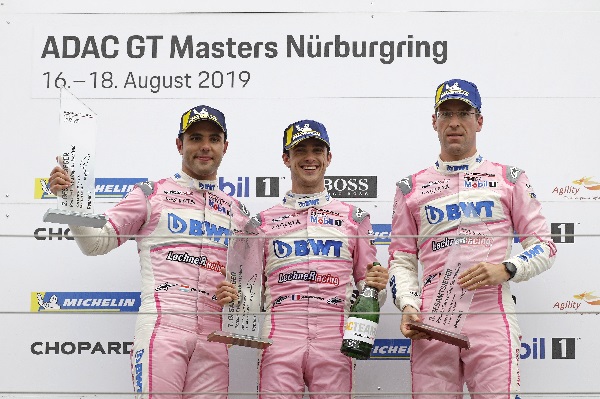 Dylan Pereira (left) reaches the podium at Porsche Carrera Cup Germany (Nürburgring); Credit: Porsche Carrera Cup Germany
Luxembourg race car driver Dylan Pereira reached the podium again at the Porsche Carrera Cup Germany over the weekend, this time securing second and third places.
This past weekend, Dylan Pereira participated in the eleventh and twelfth races of the Cup at the Nürburgring, known for being one of the most demanding circuits in the world. Despite a wet track, the Luxembourger maintained his position as one of the fastest drivers on the track - he has reached the podium eight times this year.
In the timed qualifying session this weekend, Dylan Pereira twice achieved the fastest lap and secured fourth place on the starting grid for both races.
In the first race, the Luxembourgish racer was initially stuck behind Michael Ammermüller and dropped to seventh place. He regained a place in the second lap before the arrival of the safety car interrupted the race (in response to cars going off track). When the race resumed, the Luxembourger climbed first to the fourth position and then, having overtaking Toni Wolf, third position before putting pressure on Germany's Ammermüller for the second position. Despite losing this lead on the ninth lap when another accident brought the safety car back on the track, Dylan Pereira managed to overtake Ammermüller and finished the race in second place, shortly behind his French opponent Julien Andlauer.
In the second race, Dylan Pereira got off to a good start, moving from fourth to third place on the grid, immediately putting pressure on Ammermüller, who managed to defend his position. The Luxembourg race car driver ultimately finished in third place, allowing him to reach the podium twice over the weekend.
The Lechner Racing team driver will now rest for a few days before returning to the Porsche Mobil 1 Supercup in two weeks, from 30 August to 1 September 2019, for the seventh race of the season on the circuit of Spa-Francorchamps, which opens the Belgian Grand Prix in Formula 1.