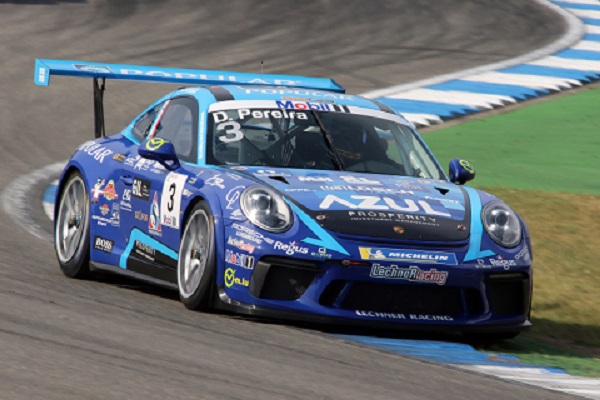 Dylan Pereira at Hockenheim 2019; Credit: ATP
On Sunday 28 July 2019, Dylan Pereira won the Porsche Mobil 1 Supercup Race in Hockenheim; this is the first time that a Luxembourger has won a race in this championships; he also set the race's fastest lap and remains 12th in the overall rankings.
The 5th race of the season for the Porsche Mobil 1 Supercup took place on the iconic Hockenheimring, a challenging circuit located in the middle of the forest and much appreciated by the drivers. The weather over the weekend included unstable weather, high temperatures during free practice, a dry track for timed practice and the threat of rain for the race.
Dylan Pereira adapted well to the layout and conditions of the track. On Friday, he showed his strength and his willingness to return to the podium, achieving the 4th best time in free practice.
On Saturday, he started timed practice with caution as he set the 6th fastest time. In the middle of the session, and after six laps, he returned to the pits for the usual settings on his Porsche 911 GT3. Back on the track, eight minutes from the end of the session, the Luxembourger immediately made a hot lap and jumped up to pole position. In the next round, Dutchman Larry ten Voorde and his team-mate Michael Ammermüller were faster, but Dylan Pereira was unstoppable and, in his ninth lap on the track, although he lost time to overtake an opponent, he regained second place, only 13 thousandths of a second back from pole position. The timed practice ended with all the drivers on the attack and Dylan Pereira qualifying as 2nd on the starting grid, with legitimate aspirations to get on the podium.
In the race, Dylan Pereira made a great start and immediately jumped into first place - a spectacular start that allowed the Luxembourg driver to achieve the best lap in the second lap of the race and gain a good lead over his opponents. During the fourth lap, an accident forced the entry of the safety car and the Momo Megatron Lechner Racing driver lost the advantage until that moment. At the restart of the race, the rain made its appearance and the track quickly became soaked and dangerous, leading to several accidents. The race was suspended before the end and the classification was based on positions on the seventh lap, which allowed Dylan Pereira to be the official winner of the race, without scoring, for not having been made half of the necessary laps.
Dylan Pereira returns to competition next week, from 2-4 August, for the 6th race of the Porsche Mobil 1 Supercup in Budapest, which will open the Hungarian Formula 1 Grand Prix weekend.