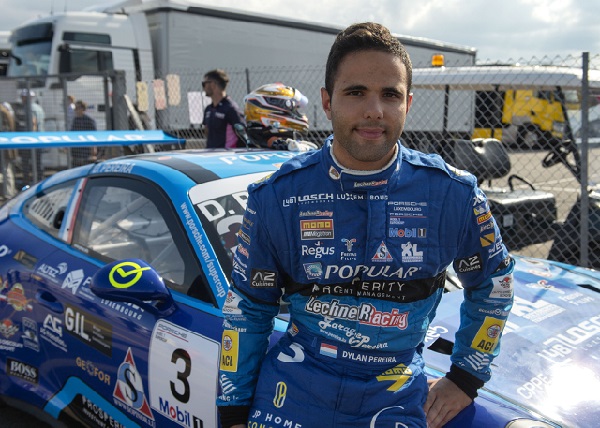 Over the weekend, Luxembourg racecar driver Dylan Pereira earned five points during the fourth race of the 2019 Porsche Mobil 1 Supercup on the renewed Silverstone circuit in England.
The 5,891 metres-long Silverstone circuit is one of the longest in the championship and represents a great challenge for drivers. It has fast sections and some very high-speed turns. This year, Silverstone had the distinction of having a brand new asphalt that impacted the grip, settings, balance, suspension and alignment of the wheels of the cars. Asphalt is also very slippery, making it more difficult to keep the car within the limits of the track.
In addition, Dylan Pereira was at a disadvantage compared to other drivers, because his Porsche had not been repaired in time to participate in the two-day official practice at Silverstone following his accident in the second race of the championship in Monaco.
With 32 registered drivers, the timed practice saw a very crowded track. Dylan Pereira made very fast lap times in the first and second sections of the track, but was delayed by opponents in the third sector and finished 17th on the starting grid, 0.879 seconds off the pole position.
In the race itself, Dylan Pereira quickly took a place at the start and reached the end of the first lap in 14th place. Having recovered three places, the Luxembourger was on his way to earning points. In the seventh round, he climbed to 13th place, then fought with two teammates before climbing to a 12th place finish. The Momo Megatron Lechner Racing team driver earned five points for the championship.
Dylan Pereira will return to the competition in two weeks, during the weekend of 26-28 July 2'19, for the fifth race of the Porsche Mobil 1 Supercup in Hockenheim, which opens the German Formula 1 Grand Prix.