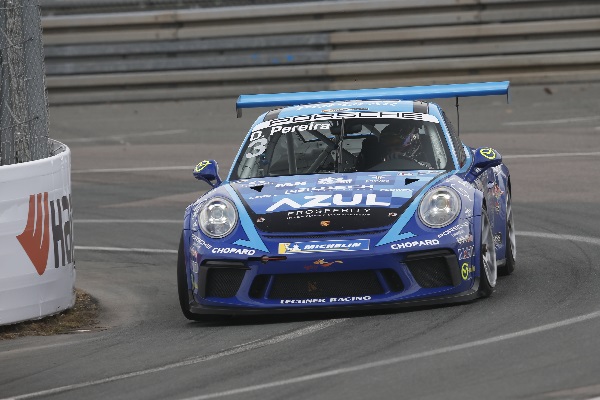 Dylan Pereira; Credit: Porsche Carrera Cup Deutschland - Norisring
Over the weekend, Luxembourg racecar driver Dylan Pereira overcame engine-related problems and gained five points at the 2019 Porsche Carrera Cup Germany.
The weekend saw Dylan Pereira take part in the seventh and eighth races of the Porsche Carrera Cup Germany in Nürnberg. The races took place on the Norisring circuit, the only championship urban circuit and the smallest of the season, measuring just 2,300 metres long and recording times of around 50 seconds per lap. However, the circuit's surface is not specifically designed for competition due to its irregularities and the rough and slippery nature of the asphalt in the braking areas.
The timed practice was hotly contested, with all the drivers finishing within close proximity. Dylan Pereira, conditioned by the performance of his Porsche 911 GT3 Cup, finished 10th in the first race, just 0.341 seconds from pole position, and 14th for the second race, 0.484 seconds off the fastest driver.
During the first race, the Luxembourger, who had never raced in this circuit before, encountered engine-related problems and, in a short circuit where the slightest error could lead to withdrawal, he crossed the finish line in 11th place and collected five points for the championship.
Between Saturday and Sunday, the mechanics of the Lechner Racing team tried to solve the problem and the repaired Porsche was released for the track, but without tests.
In the second race, Dylan Pereira quickly overtook two opponents at the start. In the second round, he climbed to 11th place before falling to last place in the fourth round, fifteen seconds behind the penultimate racer. Nevertheless, the Luxembourger persevered and passed the chequered flag in 18th place.
Dylan Pereira will return to the track this coming weekend, from 12 to 14 July, for the fourth race of the Porsche Mobil 1 Supercup at Silverstone. The race will open the British Grand Prix Formula 1.