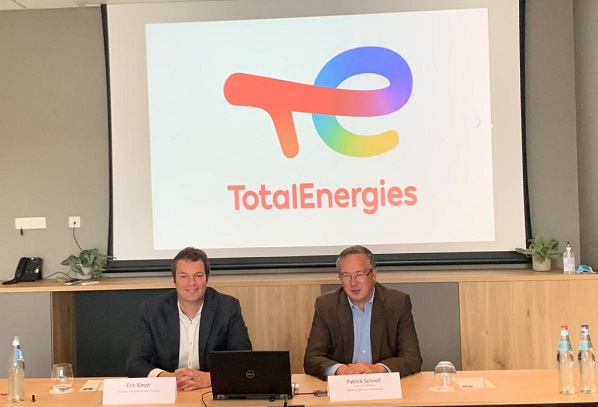 Credit: Christophe Steichen
On Tuesday 5 October 2021, TotalEnergies launched its charging offer for electric vehicles intended for professionals in Luxembourg.
Through its Luxembourg subsidiary, TotalEnergies is pursuing its strategy of building a multi-energy company with an ambition of carbon neutrality by 2050.
For charging at the workplace, TotalEnergies offers different terminal powers (AC / DC). Customers can decide whether to restrict the access of chargers to their own fleet of company vehicles, allocate access to employees with a private electric vehicle or allow their customers and visitors to charge their vehicles at these stations.
"We are committed to providing a user experience and electric charging services that meet the expectations of our customers", commented Eric Bleyer, Mobility & New Energies Director of TotalEnergies in Luxembourg. "We offer a turnkey solution in order to be able to support professionals in their mobility in an optimal way. The service offered by TotalEnergies integrates project planning, equipment, commissioning, management / invoicing, monitoring, customer support and infrastructure maintenance".
TotalEnergies also offers home installation of smart chargers for employees using company electric vehicles.
Reflecting the composition of the Luxembourg job market, this offer is intended as much for employees residing in the Grand Duchy as for cross-border workers residing in the Greater Region. The offer includes an automatic reimbursement option for the energy consumed by the employee at home for his / her electric vehicle and its re-invoicing to the company.
For on-the-road charging, TotalEnergies already markets the multi-energy card. Alongside the services of the classic fuel card, this card allows customers to charge their electric vehicle at more than 200,000 public charging points in Europe, including Chargy terminals in Luxembourg.
"We want to provide all the energy solutions that our customers need in the management of their vehicle fleets. To support them in the transition to electric mobility, we have a local team in Luxembourg. This dedicated team remains attentive to their customers in order to best meet their needs", noted Patrick Schnell, Managing Director of TotalEnergies in Luxembourg.