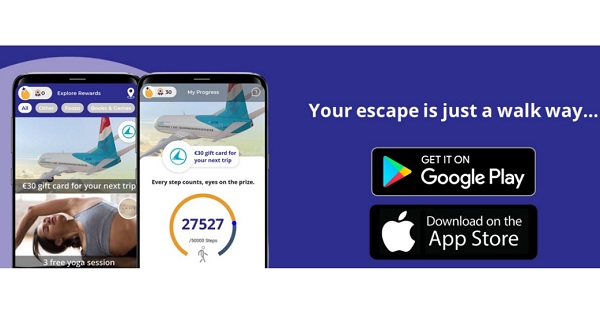 Luxair today announced the launch of its new collaboration with Luxembourg startup No Big Deal.
The collaboration forms part of Luxair's commitment to supporting startups and aims to encourage Luxembourg residents to get moving (both on foot and in the air), in exchange for exclusive discounts.
The challenge: 50,000 steps in ten days, by beating the clock. To join this initiative, download the No Big Deal app from Google Play or App Store, open it to discover the Luxair reward and start the challenge. The app will count the steps using the smartphone or wearable device as people walk throughout their day.
Once and if the target is achieved, the client will receive a unique e-code to redeem when booking their next flight on www.luxair.lu. These codes are limited to a total of 777.
"This initiative reflects Luxair's objective to support Luxembourg's and the Greater Region's ecosystem, including the startup ecosystem – No Big Deal's achievement-based wellbeing app was a fun way to achieve this objective", commented Gilles Feith, CEO of Luxair.
"Partnering with a brand like Luxair fits perfectly with what No Big Deal is all about – achievement and experiences – what better incentive to exercise than achieving your next holiday? We are thrilled to be working with them", added Nigel Bergstra, co-founder of No Big Deal.
Fellow co-founder Daniel Klemetz noted: "It's great to partner with companies like Luxair who share our vision and drive of making our community a bit healthier, and a bit happier".