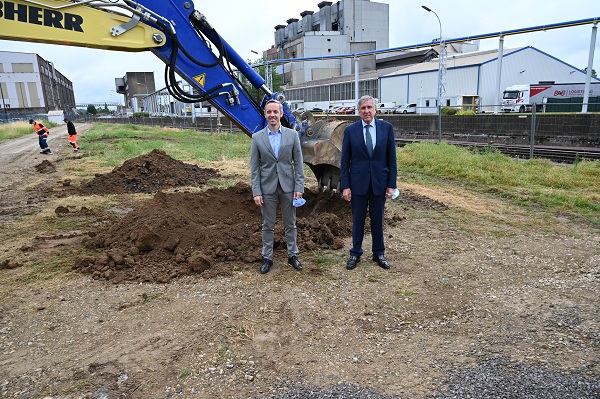 L-R: Georges Mischo, Mayor of the City of Esch-sur-Alzette; François Bausch, Luxembourg's Deputy Prime Minister and Minister of Mobility and Public Works; Credit: MMTP
The groundbreaking ceremony for the PC8 cycle path (piste cyclable) connecting Esch-sur-Alzette to Belval took place on Wednesday in the presence of Luxembourg's Deputy Prime Minister and Minister of Mobility and Public Works, François Bausch.
This two-kilometer-long section of the PC8 Esch-Alzette - Belval will provide a direct cycle route linking the City of Esch-sur-Alzette and the district of Belval in southern Luxembourg.
The project is subdivided into five successive sections. The first, entitled the "PC" section, will pass through the eastern part of the cycle path (530 metres) and includes the construction of the underpass (OA1498) below the railway tracks on the ArcelorMittal site.
The "Alley" section will include landscaping over an area of ​​approximately 1.2 hectares. The rest of the route will be extended via cyclist and pedestrian traffic which will be duplicated in order to create ramps adapted to people with reduced mobility and to keep cycle traffic on a constant slope. These ramps will creep into a grove of trees to ensure adequate integration into the landscape.
As part of the "Promenade" section, the ramps will branch out to access the footbridge (OA1499). The bridge currently has a total length of 1,200 metres (making it the longest cycle bridge in Europe) and a width of circulation of 4.5 metres, which will be increased to 7.5 meters in order to to ensure that the gauge of the railway tracks is free. This section will be characterised by the presence of trees which will be preserved thanks to the offset of the cycle path on a cantilever structure. Rest areas will also be set up here.
The cycle path will continue with the "Schmelz" section, with a running section framed by the iron and steel site and the railway tracks.
Finally, when approaching the "Belval" site, cyclists will ride on ramps which will take them to Avenue des Sidérurgistes and / or Avenue du Rock'n Roll. Pedestrians will be able to use direct, vertical traffic (stairs and lift) to reach the Belval district.
Completion of the works is scheduled for the end of 2022.
The total project costs amount to €39 million.