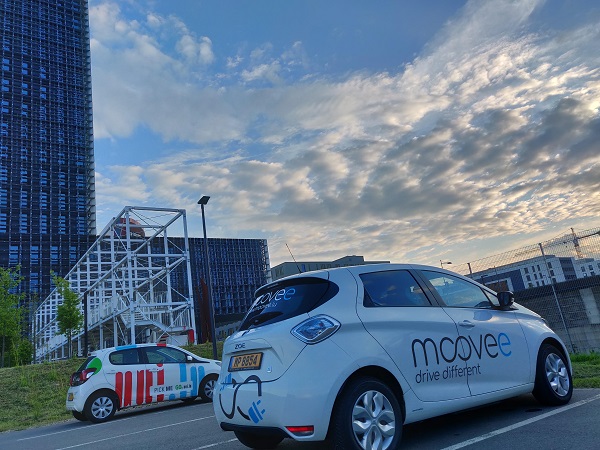 Credit: Moovee
Moovee, Luxembourg's first multimodal mobility operator and a leader in B2B shared mobility in Europe, has announced the expansion of its service in Belgium, by acquiring Zencar Belgium.
After a mixed year for all markets, Moovee closed 2020 with consolidated double-digit growth.
For several years now, there have been many shared mobility initiatives in Europe offered by B2C operators, from cars to scooters and scooters. However, one market that was not necessarily of interest to investors or operators was that of companies, or "closed" communities. The principle is similar: it consists of making shared vehicles available to a limited number of users, namely company employees, employees of a municipality, or even the inhabitants of an "eco-district". This market alone represents a potential of 200,000 shared vehicles in France and neighbouring countries.
Created in 2017, the startup Moovee has begun its development in Luxembourg, having signed a strategic partnership with ALD Automotive, European leader in car leasing and a subsidiary of the Société Générale group.
The management of the two companies decided to collaborate to offer a complete offer integrating solutions for shared vehicles and carpooling in companies, all included in a single smartphone application. The agreement allows the two partners to offer shared car, bicycle or scooter solutions at a fixed monthly rent.
Sébastien Berthelot, Founder and CEO of Moovee, explained: "Being able to offer our solutions in a leasing contract via ALD Automotive makes it easier for companies to access them thanks to an investment that is paid on a monthly basis and that includes all operational services: insurance, maintenance, assistance, repairs, reservations… in short, a turnkey solution for our customers and their employees. Our offer is the result of long R&D work which guarantees a unique user experience".
Dominique Roger, Managing Director of ALD Automotive Luxembourg, added: "It is this principle of management and reservation considered simple, reliable and comprehensive that seduced us: the company determines its needs and we equip it accordingly. Vehicle management is then centralised on the Moovee platform. Our offer allows companies to completely free themselves from any operational burden such as maintenance, key management, reservation planning, damage management. Thanks to the carpooling function accessible through the application, the company can also encourage its employees to share trips. This portal was the missing solution in our service portfolio".