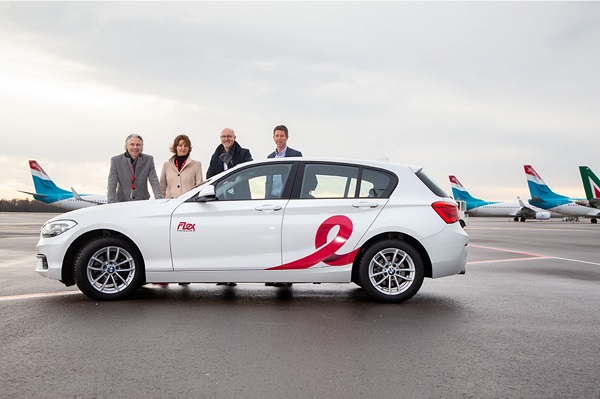 L-R: René Steinhaus, CEO of lux-Airport; Stefanie Kaever, Head of Mobility at lux-Airport; Jürgen Berg, Director General of Flex Mobility SA; Pit Reiter, B2B Relations; Credit: lux-Airport
Lux-Airport, the operating company of Luxembourg Airport, has announced the arrival of a new mobility offer for travellers landing in the Grand Duchy: Flex Carsharing.
As of now, Luxembourg Airport is offering an additional mobility offer with Flex Carsharing. Flex cars can be booked 24/7 via the Flex app.
Commenting on the difference between Flex cars and a conventional rental car, Jürgen Berg from CFL Mobility SA / Flex, said: "The special feature is the flexibility in use, because a Flex customer can lend our vehicles up from one hour to 72 hours, depending on their needs. Furthermore, there is no formalities at the counter and the return is relaxed. Also, the vehicles do not have to be refueled when they are returned as long as the level is sufficiently high. This means that Flex cars are used effectively and sustainability is supported. In terms of costs, a Flex car pays off for users: fuel and insurance are included in the rent".
To register with Flex, customers need a driver's licence valid in Luxembourg, an ID card and a valid credit card (only Visa or Mastercard). The customer has two tariff models to choose from: the basic subscription without monthly costs (only pay when you use it); the Gold subscription for €10 a month (minimum term of six months; benefit from cheaper hours and km tariffs as well as other advantages).
René Steinhaus, CEO of lux-Airport, commented: "Car sharing is an important part of modern mobility. lux-Airport is very pleased to introduce carsharing to our mobility platform with an experienced partner like Flex".
With the new Flex Carsharing concept, lux-Airport aims to focus on the needs of passengers to be flexible and independent. Those who have not downloaded the Flex Carsharing App before their trip, can log in to the free Wi-Fi at Luxembourg Airport and download it. For more information about Flex Carsharing, visit www.flex.lu.