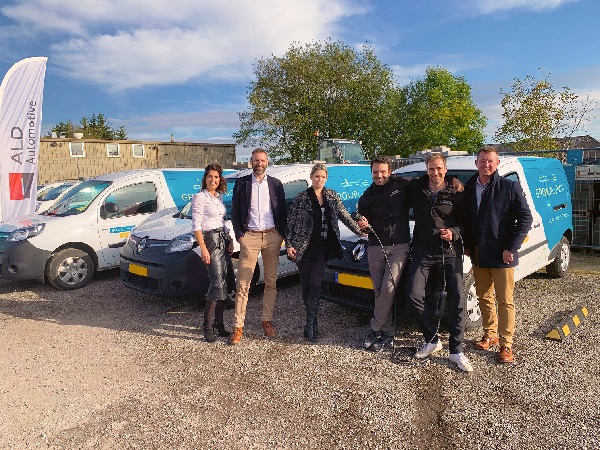 Credit: ALD Automotive
ALD Automotive has leased a fleet of 24 electric Renault Kangoo vehicles to the food delivery service, Grouplunch Luxembourg.
Pierre Pereira da Silva, CEO of Grouplunch, and Raphaël Orsini Rosenberg, Director of Grouplunch, recently received the delivery of the new 100% electric vehicles in the presence of ALD Automotive, represented by Gerrit Canipel, Sales Director, Vincent Poncin, Sales Manager, Sophie Vonner, Customer & Supplier Relationship Manager, and Cherryl Wollscheid, Sales Consultant.
Pierre Pereira da Silva explained: "Our regular trips are mainly in urban and peri-urban areas, ideal conditions for using a fleet of electric vehicles with 100% renewable electricity. We have the concrete objective of cancelling our environmental impact by 2021 (zero plastic and zero emissions). This ambitious goal is currently 70% achieved thanks to this choice, which, together with the operational leasing of ALD, provides us with the best solution in terms of cost control, operational efficiency and compliance with the environment".
For ALD Automotive Luxembourg, this markes a new step towards 100% electric mobility solutions delivered to customers. Gerrit Canipel commented: "ALD is delighted to have been chosen by Grouplunch for its electric mobility. This operation shows that some trades can now be done with electric vehicles and that operational leasing is the ideal solution because it removes any fear from the decision maker as to the residual value of this type of vehicle; this risk is the business of ALD not that of the customer".
This marks one of the largest deliveries of electric vehicles under an operational leasing contract in Luxembourg and confirms Grouplunch's aims to carry out its business in an eco-responsible manner.