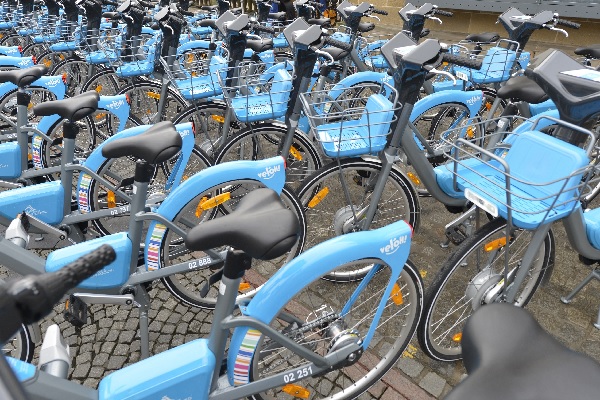 Credit: Phototheque / Charles Soubry
Last Friday 30 November 2018 marked the launch of the new self-service "vel'OH!" bicycle system in Luxembourg City.
The launch of the new generation of vel'OH! electric bikes sees an improvement to the rental bike system introduced in 2008, which aimed at returning the bicycle to the urban landscape, an important step in the implementation of the concept of mobility and particularly soft mobility. Indeed, thanks to this electric support, the new vel'OH! is now available in new neighbourhoods and accessible to a wider audience.
Following the call for applications to set up and operate a self-service rental bike system launched in April 2017, the City of Luxembourg chose JCDecaux Luxembourg SA which will operate the vel'OH system until 2028. As part of this new market, brand new equipment has been put in place: a hundred stations, some 1,900 terminals and 900 electric bikes.
Luxembourg is the first city in the JCDecaux network and one of the first European capitals to offer a fleet of fully electric bicycles. With its new modern equipment, contemporary design, various safety and state-of-the-art features as well as ease of management and use, the new vel'OH! is a substantial improvement for users, for a slightly adapted subscription price.
The self-service bike system is available 24/7. In total, the new network has 94 stations in different districts of the capital and in the neighbouring municipalities of Hesperange and Strassen. Currently, 60 stations are operational and equipped with new bikes. The remaining stations will be closed in preparation for their replacement by mid-December 2018 (except stations linked to ongoing projects). In addition, quality checks, regular maintenance and, if necessary, repairs will be carried out by the operator. Users who notice a problem can similarly report it via the application or their user account for rapid technical support.