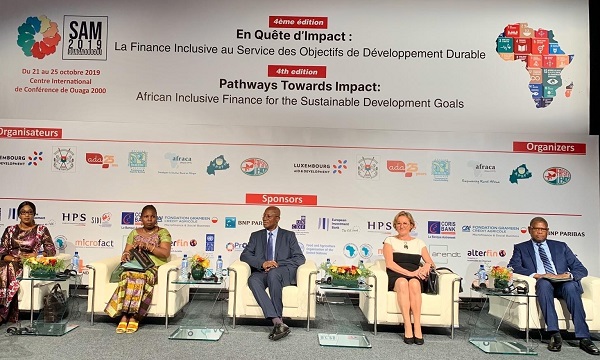 L-R: Zahra Iyane Thiam (Minister of Microfinance, Social and Solidarity Economy, Senegal); Pauline Zouré (Minister delegated for Spatial Planning, Burkina Faso); Prime Minister Christophe Joseph Marie Dabiré; Paulette Lenert; Norbert Toé (BCEAO); Credit: MAEE
Yesterday marked the opening of the fourth African Microfinance Week (referred to as "SAM" based on the French acronym), co-organised by Luxembourgish non-profit association ADA, at the International Conference Centre in Ouagadougou in Burkina Faso.
This year's event, taking place from 21-25 October, is being held around the theme of the impact of inclusive finance and has already gathered a record number of participants (over 600) from African, European and Luxembourgish inclusive finance ecosystems.
During the opening ceremony on Tuesday, Luxembourg's Minister for Development Cooperation and Humanitarian Action, Paulette Lenert, delivered a speech in the presence of the Prime Minister of Burkina Faso, Christophe Joseph Marie Dabiré, the Minister of Microfinance and the Social and Solidarity Economy of Senegal, Zahra Iyane Thiam, and the Deputy Governor of the Central Bank of West African States (BCEAO), Norbert Toé.
In her opening speech, Minister Lenert identified the challenges and opportunities facing the inclusive finance sector in Africa, such as digitalisation, agricultural finance, micro and small enterprise services and the financial inclusion of women and young people.
Co-organised by ADA and the African inclusive finance networks, the SAM allows participants to exchange on the best approaches to ensure a positive socio-economic impact through financial inclusion, including savings, insurance, credit and money transfer services.