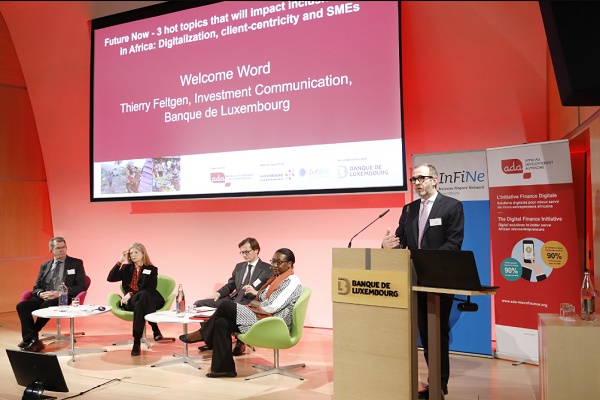 Credit: Olivier Minaire
ADA kicked off its 25th anniversary celebrations with a Midi de la Microfinance dedicated to current industry topics in the context of financial inclusion in Africa.
This 46th Midi de Microfinance, entitled "Future Now: 3 hot topics that will impact inclusive finance in Africa Digitalisation, client centricity and SMEs", brought together three international speakers who discussed digitalisation, the true added value for customers and gender equality in African entrepreneurship, in front of an audience at Banque de Luxembourg.
The speakers were: Gerhard Coetzee, the client centricity expert at CGAP, who presented how inclusive finance works in terms of the added value on the end clients; Madji Sock, Founder and President of the Women's Investment Club Senegal, who focused on the importance of funding small entrepreneurs; Arnaud de Lavalette, digital finance expert at ADA, who presented the importance of the digitalisation of Africa.
Digital solutions are often mentioned as one of the most important themes that will shape the future of the financial inclusion sector, by facilitating access to the most remote populations, reducing the operational costs of microfinance institutions or simply through the democratisation of financial services. As speaker Madji Sock pointed out: "Digital helps to bridge the gap between men and women or young entrepreneurs".
Fellow speaker Arnaud de Lavalette added that as part of the "Digital Finance Initiative" project launched by ADA in 2017 in African countries, microfinance institutions are turning to digital innovations in response to customer demand. Most technological products are therefore put in place initially with the idea of ​​bringing real added value to the customer.
Finally, the issue of public-private partnerships was discussed for the advancement of the sector. Concluding the debate was Sachin S Vankalas, Director of Operations and Sustainability at LuxFLAG Luxembourg who emphasised the need for capacity building of microfinance actors in Africa to access more investors and thus improve their products and services, including digital ones.