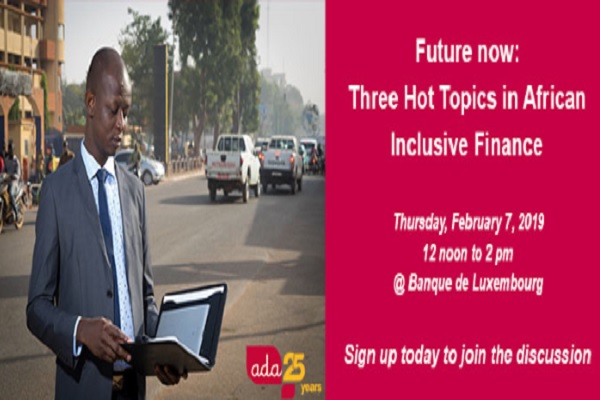 To celebrate its 25th anniversary, ADA is organising a Midi de la Microfinance on key topics in the context of inclusive finance in Africa; this will take place on Thursday 7 February 2019 from 12:00-14:00 at the Banque de Luxembourg (auditorium).
This 46th Midi de Microfinance entitled "Future Now: 3 hot topics that will impact inclusive finance in Africa Digitalisation, client centricity and SMEs" is linked to two important events for ADA this year: its 25th anniversary and the 4th edition of the SAM, African Microfinance Week, in October in Ouagadougou, Burkina Faso, which will focus on the real impact of inclusive finance.
As such, this upcoming Midi will involve discussions and debates on how ADA and the inclusive finance sector could improve the positive impact on the lives of the final beneficiaries. It will be a unique opportunity to discuss topics that will play a key role in the inclusive finance sector and sustainable development in the future.

Three international experts will present three different and essential topics at this Midi: Gerhard Coetzee, the client centricity expert at CGAP, will present how inclusive finance works in terms of the added value on the end clients; Madji Sock, Founder and President of the Women's Investment Club Senegal, will focus on the importance of funding the small entrepreneurs; Arnaud de Lavalette, digital finance expert at ADA, will present the importance of the digitalisation of Africa.

The debate will be moderated by Myka Reinsch, an inclusive finance consultant who is working together with ADA on the preparation of the next SAM. Sachin S Vankalas, Director of Operations and Sustainability at LuxFLAG will conclude this debate.
The conference will be held in English.
Participation is free, but registration is mandatory at https://www.ada-microfinance.org/en/registration-form-to-the-46-midi?utm_source=sendinblue&utm_campaign=46th_Midi_de_la_Microfinance__Future_Now_Three_Hot_Topics_in_African_Inclusive_Finance&utm_medium=email.