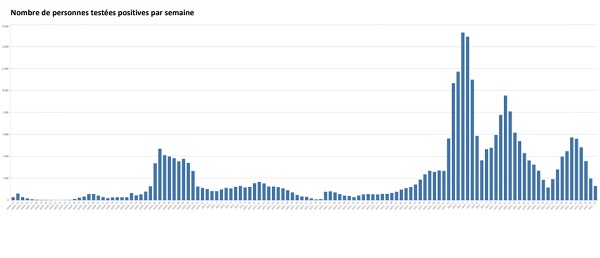 The number of people testing positive for COVID-19 by week; Credit: MS
On Wednesday 10 August 2022, Luxembourg's Ministry of Health, together with the Ministry of National Education, Children and Youth, the National Health Laboratory (LNS) and Luxembourg Institute of Science and Technology (LIST), provided a weekly update on the COVID-19 pandemic in Luxembourg, covering the period from 1 -7 August 2022.
During this period, the number of people who tested positive for COVID-19 fell 34%, from 2,000 to 1,310; the number of PCR tests carried out decreased from 7,787 to 6,314.
A total of 17 people reported a positive rapid antigen test (ART), compared to 18 for the week before, bringing the number of positive results following ART carried out by a healthcare professional to a total of 3,401 (note: positive rapid antigen tests are not taken into account in the calculation of the positivity rate).
As of 7 August 2022, the number of active infections decreased to 5,966 from 8,904 on 31 July, and the number of those recovered rose to 279,398 (from 275,850). The average age of people diagnosed with COVID-19 is 44.1 years old.
For the week of 1 - 7 August 2022, 4 new deaths related to COVID-19 were recorded: the average age of the deceased is 85 years old.
In hospitals, 14 new admissions of confirmed positive COVID-19 patients took place in the care units, compared to 17 the previous week. In intensive care, the number of occupied beds is 2. The average age of hospitalised patients is 65 years old.
Positivity rate and incidence rate
During the first week of August, the effective reproduction rate (RT eff) increased to 0.78 (0.62 the previous week), and the positivity rate on all tests carried out (prescriptions, contact tracing) decreased from 25.68% to 20.75%.
The incidence rate decreased to 203 cases per 100,000 inhabitants over 7 days, compared to 310 cases per 100,000 inhabitants for the previous week.
Reinfections as well as certified self-tests were included in the calculation of incidence rates. Compared to the previous week, the incidence rate is decreasing in all age groups. The greatest decrease is recorded in the age groups over 45 years (-39%), followed by the 0-14 years (-38%), while it is around -34% at -35% in age groups between 15 and 44 years old.
The lowest incidence rate is recorded among 0-14 year olds (124 cases per 100,000 inhabitants), while the highest incidence rate is recorded among 30-44 year olds (358 cases per 100,000 inhabitants).
Contamination
With the number of cases remaining high, it is difficult to call, review and determine the probable source of contamination, as well as the proportion of positive cases from residents who have travelled during the 14 days prior to the date of the result for cases of the past week.