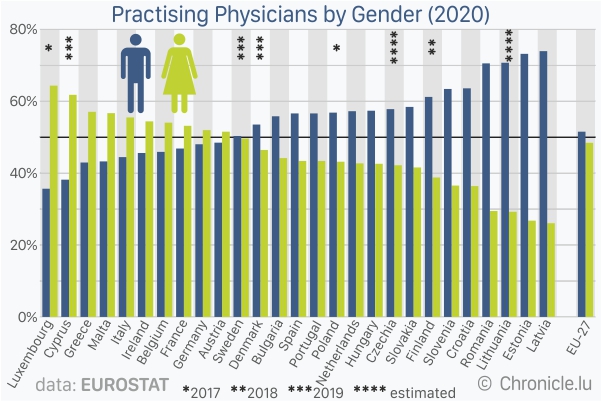 Credit: Kangkan Halder / Chronicle.lu
Data extracted from European statistics agency Eurostat have shown that nearly two out of every three physicians (excluding dentists) in Luxembourg are male, the highest male-to-female physicians ratio in the European Union (EU).
In 2017, according to the latest data available for Luxembourg, there were 1,781 physicians in Luxembourg, including general practitioners (534), general paediatricians (98) and specialist medical practitioners, such as obstetricians and gynaecologists (101), psychiatrists (128), medical specialists (513) and surgeons (406), among others. A total of 1,146 (64.3%) physicians were men and 635 (35.7%) were women.
Conversely, seventeen out of 27 EU Member States had more female than male physicians, with Latvia reporting the highest share of female physicians (73.9%), followed by Estonia (73.2%), Lithuania (70.7%) and Romania (70.5%), the four Member States in which over 70% of physicians were women. The EU average was 51.5% male physicians and 48.5% female physicians.
Luxembourg also recorded the lowest share of young physicians under the age of 35, who represented 4.8% of all physicians, compared to 21.9% across the EU. Malta reported the highest share of young physicians (under 35) at 44.5%, followed by Romania (34.0%), the Netherlands (31.4%) and Ireland (30.2%).
In terms of total population, Luxembourg had 298 physicians per 100,000 inhabitants, just shy of the lowest share reported by Poland, with 238 physicians per 100,000 inhabitants. In contrast, Greece reported 620 physicians per 100,000 inhabitants, the highest share across the EU and over twice as many in Luxembourg, followed by Portugal (549), Austria (535) and Spain (458).