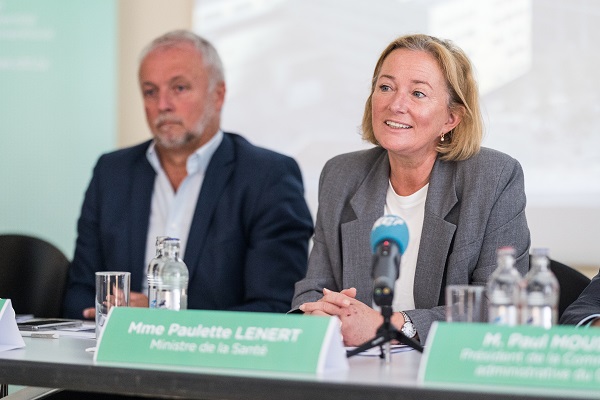 L-R: Jean-Paul Freichel, Government Commissioner for Hospitals; Paulette Lenert, Luxembourg's Minister of Health; Credit: Paul Foguenne
At a press conference on Tuesday 3 May 2022, Luxembourg's Minister of Health, Paulette Lenert, presented the financing plans for a new building at the Centre Hospitalier de Luxembourg (CHL).
Last Friday, Luxembourg's Government Council approved a bill authorising the State to participate in the financing of the construction of the new "CHL Centre".
The new CHL building will be located on the current site of the former maternity ward, along Route d'Arlon between Val Fleuri and Rue Federspiel. With a usable area of ​​54,158 m2, the new building will bring together on a single site all the acute clinical activities currently spread over the "CHL Centre" and "CHL Eich" sites, as well as the National Institute of Cardiac Surgery and Interventional Cardiology (INCCI).
According to the construction plans, the new building will be directly connected by a walkway to Annex 1 and Annex 2 of the current CHL Centre building. Together with these annexes, the new hospital construction will bear the name of "CHL Centre". Annex 1 will house the administrative services of the CHL and the INCCI, as well as duty rooms for doctors. Annex 2 will include the amphitheatre, several training rooms, physical therapy rooms and the CHL laboratory.
According to Luxembourg's Ministry of Health, from design to completion, the construction of the new hospital complex is "a unique opportunity to create the hospital of tomorrow which will be resolutely focused on the well-being of the patient". This will involve creating a hospital environment that "meets the needs of the future by integrating the technical and digital innovations required to best care for patients and provide an adequate working environment for our healthcare professionals". The State has allocated a budget of €555,857,000 including tax (based on the October 2021 construction price index of 924.32) for the construction of this new hospital, of which €480 million is reserved for infrastructure and €75 million for equipment and devices.
Architects, engineers and specialists have worked together over the past few years with the CHL project teams, and in consultation with the Health Department, with a view to developing a concept that ensures quality work.
The start of the earthworks is scheduled for the fourth quarter of 2022, after the vote on the financing law. The current provisional schedule foresees the end of the works and the commissioning of the new hospital by the end of 2028.
Spread over twelve floors, the new building will house 474 beds (including 20 INCCI beds), 378 rooms (including 67% single rooms), 78 day hospital locations, eighteen operating theatres (fifteen CHL operating theatres and three INCCI operating theaters), six endoscopy rooms, an adult emergency department able to accommodate up to 315 patients a day, two helipads and an underground car park with 427 spaces.