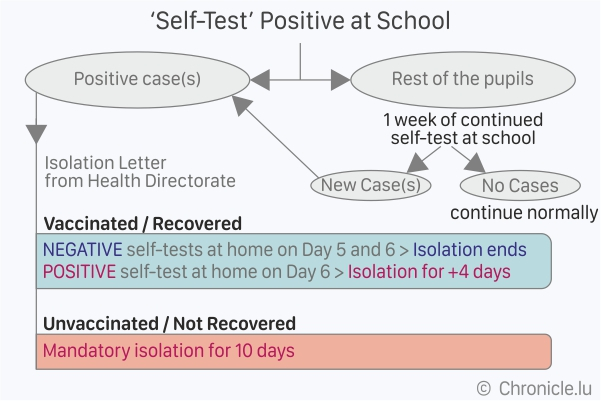 Following the detection of the Omicron SARS-CoV-2 variant in Luxembourg, which has a high rate of transmissibility, the Ministry of Education, Children and Youth has adapted the measures in place to minimise its transmission within schools.
Currently, rapid antigen self-tests (nose swabs) are carried out three times a week among pupils in primary education from Cycle 2 and up to and including secondary schools, with the exception of pupils in cycle 1 of primary schools, who perform self-tests at home.
Positive Self-test at School
If a positive test is detected at school, the child in question is immediately placed in isolation. For the rest of the pupils, daily self-tests are carried out for one week.
Without parental consent and pupils refusing to get tested will remain in quarantine for one week, counted from the day of last contact with an individual who tested positive. At the end of week one, a negative PCR test or a certified rapid antigen test is required to return to class. Unavailability of a certified test will lead to an additional week of quarantine (two weeks in total).
Pupils who are fully vaccinated can voluntarily self-test daily at school, with parental consent.
Pupils who test positive for the virus will remain in isolation for six days if they are fully vaccinated or have recovered (in the past 180 days) and provided their self-tests on the fifth and sixth day are negative. In the event of a positive test result on the sixth day, pupils will have to continue isolating for an additional four days (ten days in total).
However, if the pupil in isolation is neither vaccinated nor has a recovery certificate (less than 180 days), then the ten days of isolation is continued without exception.
Positive Self-test at Home
In the event of a positive self-test at home, an online declatation is required at https://covidtracing.public.lu. The school must also be notified.
Following this declaration, the Health Inspectorate will send out a prescription for a PCR test to confirm the rapid antigen self-test results.
In the event of a positive PCR test result, the aforementioned isolation period will apply.
Wearing a mask covering both the nose and mouth when inside a classroom is mandatory for teachers and pupils from cycle 2 and up.
The above measures are applicable from Monday 10 January 2022.
Leave for family reasons
In the event of a child being in isolation (after a positive test result) or quarantine (after close contact with an infected individual), one of his / her parents can avail of exceptional leave for family reasons in relation to COVID-19.
The online request form is available at http://guichet.lu/cocrf. An isolation or quarantine letter from the Health Directorate must be uploaded with the request. If an isolation or quarantine letter is not available, a request can be made at https://covidtracing.public.lu/home
Psychological support
In the event of psychological need or stress, children, parents and family members can reach out to the 8002-9393 helpline every day from 08:00 to 18:00.