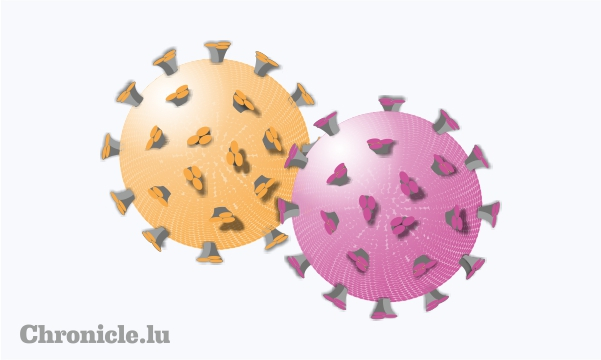 Conceptual illustration of coronaviruses; Credit: Kangkan Halder
A research facility in Brussels has submitted a sequencing data to GISAID, an online global platform for genetic sequence depository of influenza viruses and coronaviruses causing COVID-19, showing the Omicron variant of concern (VOC) in a sample from Luxembourg.
The genetic sequence submitted on 4 December 2021 under the GISAID identifier EPI_ISL_7074135 showed that the sample was collected on 24 November 2021 from a 27-year-old male from Weiswampach region, Luxembourg.
Chronicle.lu has confirmed the GISAID submission data is correct with the lead author and coordinator of the COVID'LAB at the Institut de Biologie Clinique (IBC) of the Université libre de Bruxelles (ULB)
The European Centre for Disease Prevention and Control (ECDC) is also awaiting an official country confirmation from Luxembourg following the GISAID submission.