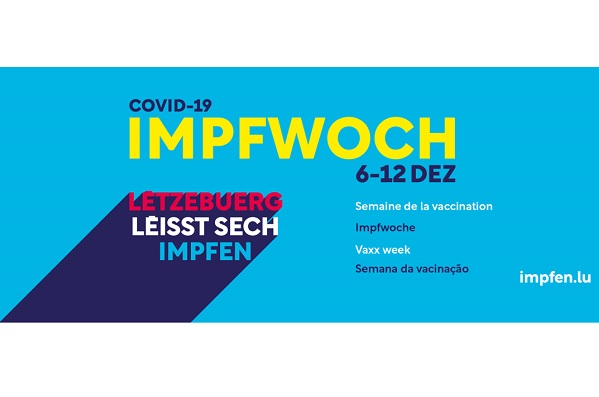 Credit: MSAN
On Monday 6 December 2021, Luxembourg launched a nationwide vaccination week aimed at encouraging more people to get vaccinated against COVID-19.
Members of the public have begun receiving leaflets in the post from Luxembourg's Ministry of Health detailing the programme for this COVID-19 vaccination week, which will run from 6 to 12 December 2021, under the slogan "Lëtzebuerg léisst sech impfen" (Luxembourg gets vaccinated).
Throughout the week, anyone wishing to receive their first, second or booster vaccine dose can do so at one of several pop-up vaccination stations across the Grand Duchy.
Vaccination week kicks off today with pop-up vaccination stations open at 70 Grand Rue in Luxembourg-Ville (opening hours: 11:00 - 18:00), Belle Etoile shopping centre (10:00 - 16:00), Differdange Opkorn shopping centre (10:00 - 16:00), the Christmas market (Wanterkiermes) in Dudelange (16:00 - 18:30) and Luxembourg Railway Station in Luxembourg-Gare (07:00 - 13:00).
Vaccinations are also being administered in the country's three vaccination centres, located at Hall Victor Hugo in Luxembourg-Limpertsberg, Maison des Matériaux in Esch-Belval and CHNP sports hall in Ettelbruck (with or without an appointment), and at over 200 general practices (appointment only).
On Saturday 11 December 2021, a vaccination information day is being held at Cercle Cité in Place d'Armes in Luxembourg-Ville. This will start with a conference for healthcare workers from 10:00 to 12:00, followed by a public Q&A session from 13:00 to 14:30. The event will also be livestreamed on YouTube.
The full vaccination week programme is available on www.impfen.lu.
In addition to encouraging people to get vaccinated, the Ministry of Health has launched a self-test campaign under the slogan "Lëtzebuerg test sech" (Luxembourg tests itself). The idea is that the entire population tests itself simultaneously on two days within a week. Each household will receive a letter from the Luxembourg government in the coming days allowing them to obtain a starter kit containing five antigen self-tests.
As part of this government initiative, Luxembourg's Ministry of Education, Children and Youth is launching an intensive testing week in primary schools and competence centres from 8 to 14 December 2021.
Pupils from cycles 2 to 4 of primary education as well as competence centre students will be invited to carry out an antigen self-test every day at school. Parents of pupils in cycle 1 will receive five antigen tests to perform with their child daily at home.
All pupils who have submitted the new certificate of parental consent for the testing system in schools, distributed following changes to the testing frequency decided by the government on 26 November 2021, will be able to participate in this initiative.