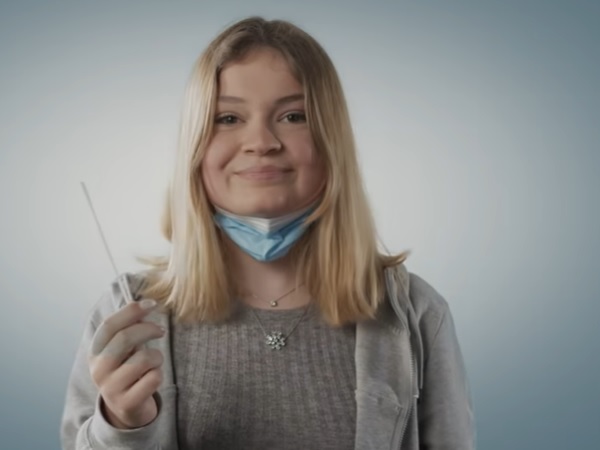 school self-tests for COVID-19; Credit: MEN
Since 19 April 2021 and until the end of the school year, rapid self-tests are being offered to students and staff of all public and private schools as well as Maisons Relais.
For the week of 19 April, students and teachers received a test kit to try at home. For the week of 26 April, the tests were held for the first time in schools under the supervision of teachers. Cycle 1 students, with the help of their parents and staff, continue to test themselves at home.
More than 13,000 people viewed the Ministry of Health's Facebook Live event on 15 April, and the participation of 3,880 teachers in the training webinar on 20 April showed the interest in the introduction of this new device. The high participation rate of the self-test at school has been 85.5% which shows a strong acceptance of this new instrument in the fight against the pandemic.
The operations generally went well: children and young people did not seem to have difficulty taking the test in school. Parents of the students who tested positive, informed as soon as the Easter holidays started of the self-test procedure, were able to organise themselves and quickly come and pick up their child.
0.078% positivity rate in schools and high schools
In the first week (19-25 April , when the tests were tried at home, 27 positive cases were reported.
The following week (26 - 30 April), 43 positive cases out of 49,777 tests performed, were positive. This amounts to a positivity rate of 0.078% in primary and secondary schools.
Digital intelligence platform set up
Reporting carried out directly by teachers via the digital communication platform with the Health Inspectorate allows for responsive monitoring of cases spotted at school. The reporting platform automatically generates an email addressed to parents with the result of the self-test.
Luxembourg's Minister of National Education, Children and Youth, Claude Meisch, stated "The introduction of self-tests in schools has been a success thanks to the commitment of all school stakeholders. The self-tests are an additional guarantee for the opening of schools and thus contribute to the well-being of the students and their academic advancement."