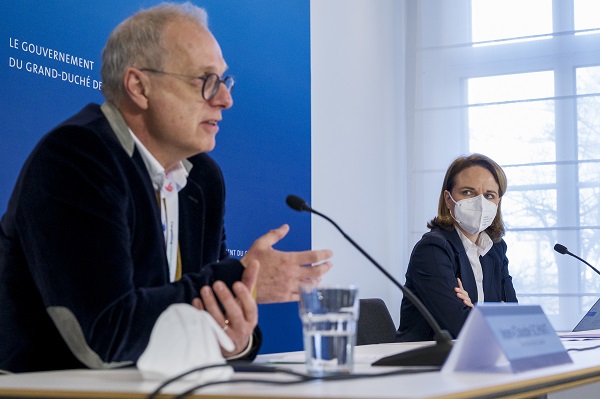 L-R: Dr Jean-Claude Schmit, Luxembourg's Director of Health; Corinne Cahen Luxembourg's Minister of Family and Integration; Credit: SIP / Jean-Christophe Verhaegen
At a press conference this morning, Luxembourg's Minister of Family and Integration, Corinne Cahen, together with the Director of Health, Dr Jean-Claude Schmit, and the Operational Director of Servior, Raoul Vinandy, addressed the issue of a cluster of COVID-19 infections identified recently at the "Um Lauterbann" care home in Niederkorn.
Minister Corinne Cahen began by expressing her condolences to the families and friends of those who have passed away in the past weeks and indeed over the past year, as well as to care home staff who knew the residents well.
The minister confirmed that a total of 324 care home residents in Luxembourg have died from COVID-19 since the pandemic began last year. She recalled that these are not just figures, but real people.
Despite the implementation of strict health measures in care homes in Luxembourg, 22 residents of the "Um Lauterbann" care home in Niederkorn have lost their lives to the disease since a first case was detected on 17 February 2021 - just one day before the first vaccinations were administered in the home. Minister Corinne Cahen emphasised that the vaccinations had nothing to do with this cluster. She noted that regular testing (previously every month, now every two weeks) had been carried out in this particular care home, with a peak of 67 positive cases being detected at one point. At present, there are ten positive cases at the home, including one individual in hospital and two others who require oxygen.
Regarding how the virus could have spread within the care home, Minister Corinne Cahen noted that the building is old and it was difficult to completely separate infected individuals from other groups. She added that a new, modern building is being developed in Kaerjeng, although it will not open before 2023.
Raoul Vinandy added that the "Um Lauterbann" care home is a large institution, with a maximum capacity of 154 beds. He noted that a large-scale test on 4 February 2021 returned zero positive results. A first resident displayed symptoms on 17 February and received a positive COVID-19 test result the following day, which coincided with the launch of the vaccination campaign in the care home. On 18 February, around 140 residents got vaccinated, whilst a handfull either refused or were exempt due to medical reasons. That same day, one staff member tested positive, followed by a second resident the next day. This led to everyone being tested again and, on 20 February, a third resident tested positive. The care home subsequently halted all group activity and advised residents to stay in their rooms.
Another test in the care home identified 35 positive cases among residents and eighteen among staff members. The authorities thus refined the procedures in place before going ahead with another large-scale test planned for 1 March. This testing round revealed that 31 residents and eleven staff members had contracted the virus. Further tests on 9 March saw figures drop: nine residents and one staff member tested positive. On 16 March, a large-scale test revealed just one new case and on 18 March, around 100 residents received their second jab; the remaining residents could not get vaccinated since they had tested positive for the virus.
Raoul Vinandy recalled that care home residents are part of an extremely vulnerable population. He specified that the average age of the 22 residents who have passed away from COVID-19 since 17 February was 88. Many of them had pre-existing illnesses. However, he recalled that around 80% of coronavirus patients in care homes have recovered.
Dr Jean-Claude Schmit reiterated the fact that this is a very vulnerable population, among which natural immunity does not appear to last long. He stressed that the virus had already been present in the "Um Lauterbann" care home prior to the launch of vaccinations, adding that "vaccines cannot cause an illness".
In terms of how the virus got into the care home in the first place, Dr Jean-Claude Schmit recalled that care home residents are not completely isolated from the outside world and emphasised the importance of social contact (with other residents, care home staff) for the mental health of residents. He added that more infectious virus variants had played a role here and that the situation was a complex one.