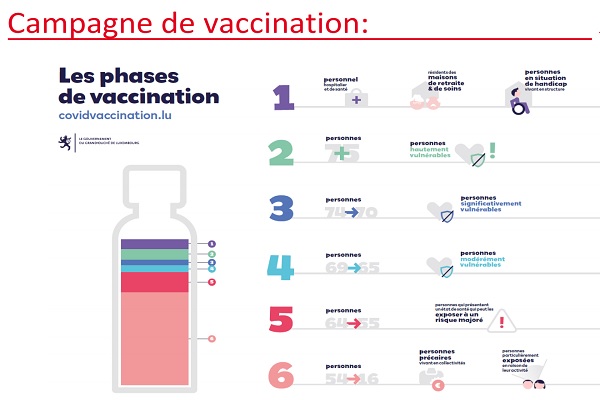 Vaccine rollout; Credit: MSAN
Luxembourg's Ministry of Health has announced the launch of phase 5a (for people aged 55-64) of the national COVID-19 vaccination campaign with the AstraZeneca vaccine.
The ministry has already sent out the first invitations to people under 65, starting with the oldest. Whilst phase 2 of the rollout plan is still ongoing, the authorities have now decided to launch phase 5a in parallel since the AstraZeneca vaccine is not being used on people aged 65 and over.
This decison is in line with the recommendations of the Superior Council of Infectious Diseases, which stated on 4 February 2021 that whilst the AztraZeneca vaccine was effective against severe forms of infection and death across all age groups, data on its efficiency for people over a certain age remained limited. The Superior Council thus recommended that over-65s be given the BioNTech / Pfizer and Moderna mRNA vaccines and younger people be offered the AstraZeneca jab.