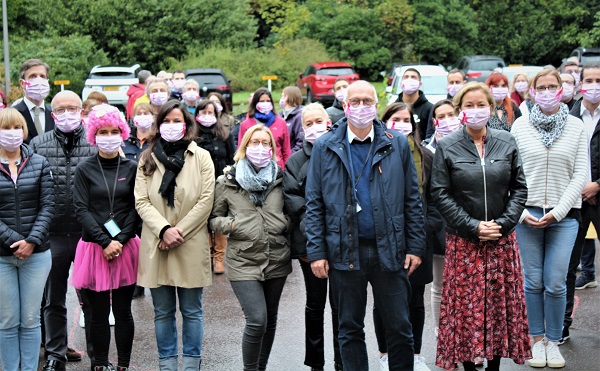 Pink October; Credit: MSAN
Luxembourg's Ministry of Health has announced a series of events for Pink October, also known as Breast Cancer Awareness Month.
Breast cancer is the most frequently diagnosed cancer in women around the world and the fight against breast cancer comes in many facets. In Luxembourg, more than 500 new cases of breast cancer are detected each year - this concerns more than one woman per day.
Traditionally known as Pink October, several events are organised during the month of October, a month dedicated to breast cancer awareness, in accordance with the measures established in the context of the COVID-19 pandemic.
To show its solidarity with women in their fight against breast cancer or its recurrence, the Health Department will distribute pink masks to all women who have had a mammogram via its mammography programme this month. These masks can then be creatively and uniquely decorated, photographed and posted on social media with the hashtag #pinkoctober2020LU.
Prevention
The earlier cancer is detected, the greater the chances of recovery and the less burdensome the therapy will be. In 8.7 out of 1,000 women, cancer can be detected at an early stage. In general, cancers found at an early stage can be treated better than cancers diagnosed at a later stage. This is why mammograms, such as those offered by the Health Department, are important. In Luxembourg, around 32,000 women, aged between 50 and 70, are invited annually to participate in an organised screening tests; nearly 18,400 women agree to get tested every year.
Breast cancer screening is considered essential for women between the ages of 50 and 70. Over the past 28 years, the mammography programme has actively educated and encouraged women to get screened in order to increase early detection of breast cancer. The Health Ministry recalled that this remains important even during the ongoing pandemic.
As Luxembourg's Minister of Health, Paulette Lenert, explained: "For the women and their families, who must despite everything face this ordeal of cancer, we support all initiatives allowing them to come out on top. It is essential that women are reassured and know that they are in good hands!".