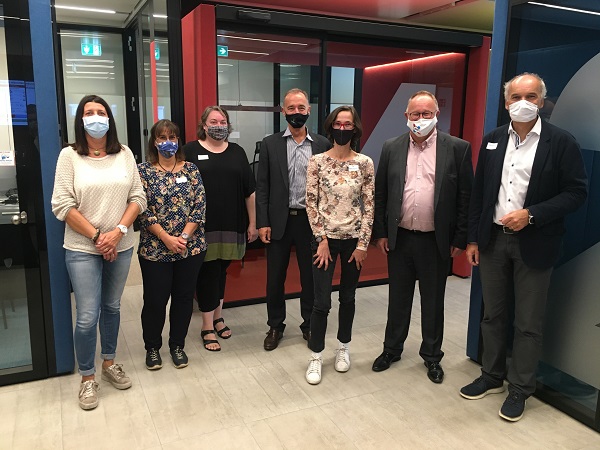 (2nd from right): Romain Schneider, Minister of Social Security; Credit: MSS
Thursday marked the inauguration of the new agency of the National Health Fund (Caisse Nationale de Santé - CNS) in Ettelbruck, in central Luxembourg.
On Thursday 24 September 2020, Luxembourg's Minister of Social Security, Romain Schneider, inaugurated the new CNS agency in the presence of Christian Oberlé, President of the CNS, and Jean-Paul Schaaf, Mayor of the City of Ettelbruck.
This agency is located at the new address 2, Place Marie-Adélaïde L-9063 Ettelbruck. Before the Covid-19 health crisis, the agency received around 100 people per day. The new premises now have a surface area of ​​150 square metres and have five counters.
Romain Schneider praised the efforts made by the CNS to remain close to people insured by a network of modern agencies which offer better accessibility to protected persons. He also thanked the daily commitment of CNS staff to offer quality service, stating: "Geographical proximity to policyholders is a point that is very dear to me. Anyone who needs a service or advice must be able to have access to an interlocutor without having to travel long distances. While more and more services can be provided remotely digitally, local and regional proximity will remain just as important, particularly for protected persons who cannot use computer technologies".
The Ettelbruck agency is one of five CNS agencies which have relocated to new premises in recent months. The agencies in Differdange, Wiltz and Esch-sur-Alzette have already been inaugurated, whilst the agency in Mondorf-les-Bains will be inaugurated by the end of September.
In order to better serve policyholders, the new CNS agencies have been fitted out according to a new functional concept. The new counters are designed to offer improved confidentiality through optimised acoustics and closed and partitioned spaces. The ergonomics of the furniture, temperatures, air renewal and lighting meet the most modern standards. The layout also made it possible to establish a new visual concept, making the CNS identity recognisable in all agencies.