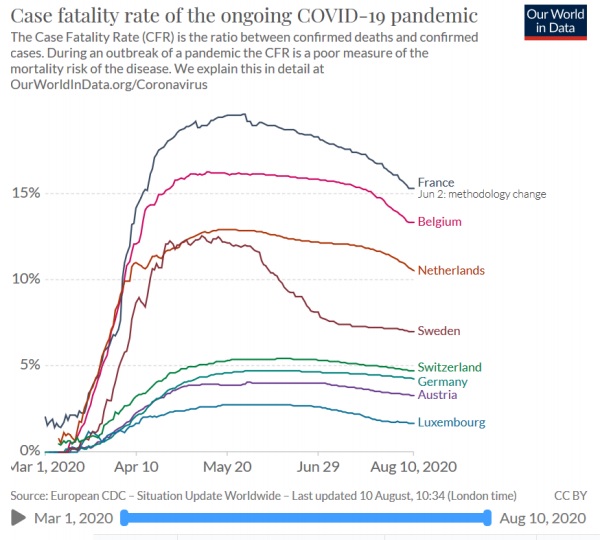 Luxembourg's Ministry of Health has reported that the importance of having a comprehensive testing strategy in the fight against the COVID-19 virus is highlighted in the new risk assessment that the European Centre for Disease Prevention and Control (ECDC) published today, Monday 10 August 2020.
The ECDC is concerned about the development of the situation in the European Union, where several countries have recently been facing an increase in cases. According to the ECDC, the Member States which have opted for the deployment of large-scale tests, in addition to an effective tracing system, such as Luxembourg, are better equipped to quickly detect an increase in cases, to identify groups at risk and therefore to limit the risks of a new rise in infections.
The new ECDC risk assessment also notes that the rates of new infections reported largely depend on the rate of tests performed. The European health authority acknowledges the efforts of our country by citing the Luxembourg approach in several places as an example. Therefore, Luxembourg is listed as being the country with the highest test rate in Europe with 10,659 tests per 100,000 inhabitants for the week of 20 July 2020, which is equivalent to a rate 5.7 times higher than that of of the country occupying second place in the ranking.
"Large-scale testing plays a key role in controlling transmission within a population, ensuring complete contact tracing and as the basis for effective surveillance. Test results help guide decisions to put in place public health measures. Large-scale testing is crucial to quickly identify local outbreaks and thus avoid risk mitigation measures applicable to the entire population."
The ECDC cautions against hasty conclusions drawn from new infections reported. The Centre stresses that, given the great diversity of testing strategies in the EU, it is important to analyse whether an increase in new infections is due to the test method or to a real upsurge, as in Luxembourg, whose large-scale testing strategy also includes "screening for asymptomatic cases." The ECDC recommends that all EU countries "maximise testing efforts with the aim of providing rapid access to testing for all symptomatic cases, including those with mild symptoms."
Finally, the ECDC has underlined the crucial role that everyone has when it comes to adopting behaviour that respects the prevention rules in place.
For full details, see https://www.ecdc.europa.eu/en/publications-data/rapid-risk-assessment-coronavirus-disease-2019-covid-19-eueea-and-uk-eleventh).