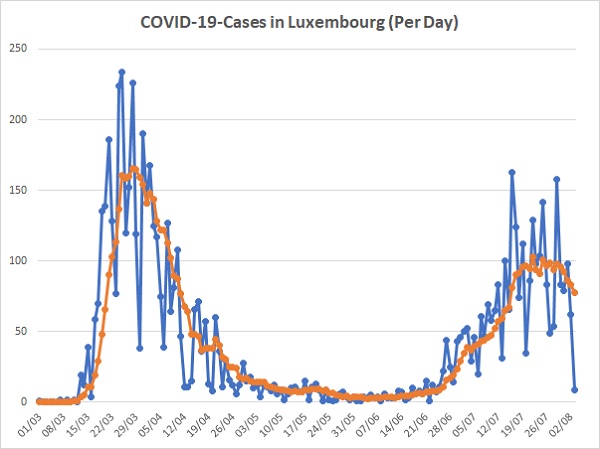 The number of people having tested positive for COVID-19 (coronavirus) in Luxembourg stands at 6,864 (up 9 from Saturday - 6 residents and 2 non-residents), with 858 residents and 166 non-residents tested over the past 24 hours; there have been 118 fatalities (an increase of 1 since Sunday) resulting from the virus, as of early evening on Monday 3 August 2020.
The low number could be at least partly explained by the relatively new number of tests undertaken in the last 24 hours, possibly due to the good weather at the week-end.
The average daily increase (over a 7-day period) in cases is now 77.57. The average age of those testing positive is 43, with the ratio of men to women being 52% / 48%, while the median age of the victims who lost their lives to the virus is 85 (average age: 84).
The number of people currently hospitalised with COVID-19 is 61, with 7 patients in intensive care. The effective reproductive number in Luxembourg is currently 0.86.
The above graph shows the evolution of the spread of coronavirus in the Grand Duchy on a daily basis since 1 March 2020, with the orange line showing the daily numbers averaged over the past week; the graph below shows the total figures (cumulative) over the same period.