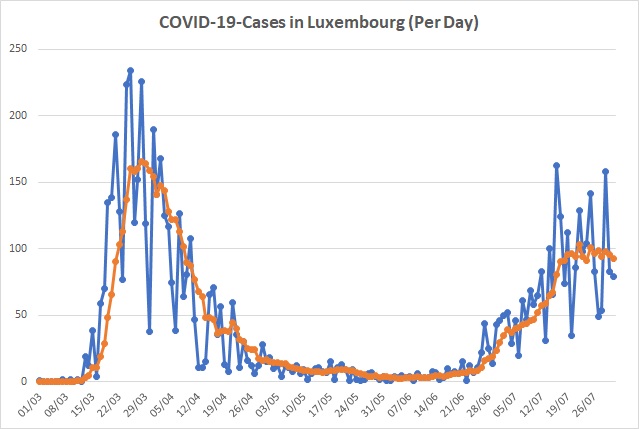 The number of people having tested positive for COVID-19 (coronavirus) in Luxembourg stands at 6,695 (up 79 from Thursday), including 114 fatalities (unchanged) resulting from the virus, as of early evening on Friday 31 July 2020.
At a press conference on Wednesday, Luxembourg's Health Minister Paulette Lenert clarified that daily reporting takes stock of the situation of the day before, using figures provided by various laboratories. Figures are reported as they were from midnight to midnight, although updates the following morning can lead to a retrospective amendment. This may explain why the difference between Thursday and Friday's figures is 79, whilst the Health Ministry reported 78 new cases from 11,772 tests carried out on Thursday.
From Thursday's tests, 68 residents and 10 non-residents tested positive. The average daily increase (over a 7-day period) in cases is now 92.43.
The number of people currently hospitalised with COVID-19 is 55, with seven patients in intensive care. Currently there are 1,389 people known to be infected while 5,192 have reportedly recovered from COVID-19. The effective reproductive number in Luxembourg is currently 0.98.
The above graph shows the evolution of the spread of coronavirus in the Grand Duchy on a daily basis since 1 March 2020, with the orange line showing the daily numbers averaged over the past week; the graph below shows the total figures (cumulative) over the same period.